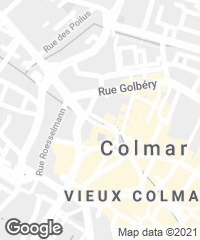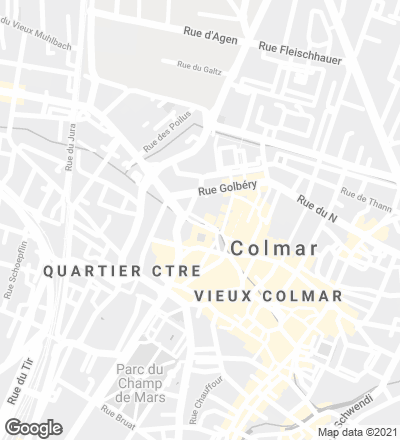 The project to extend the Musée Unterlinden in Colmar encompasses three dimensions: urban development, architecture and museography. It centers on the issues of reconstruction, simulation and integration.
Two building complexes – the medieval convent and the new museum – face each other across the Unterlinden square, whilst they are physically connected by an underground gallery. The new building mirrors the church's volume and, together with the former municipal baths constitutes a second, enclosed court. In this way, what was before the museum's renovation a bus stop and a parking lot has become a new public space. The Sinn canal, which flows under Colmar's old town, is reopened and becomes the central element of this new public space. Close to the water, a small house marks the museum's presence on the square: its positioning, volume and shape are those of the mill that once stood there. Two windows allow passers-by to look downwards at the underground gallery.
The aim was to find an urban configuration and architectural language that would fit into the old town and yet, upon closer inspection, appear contemporary. Moved to the center of the Unterlinden square, facing the canal, the entrance to the expanded Museum leads to the convent, the facade of which was delicately renovated. Museological components from the recent past were removed and the spaces restored to a former state. The original wood ceilings were revealed and formerly blocked windows looking out on the cloister and the city reopened.
Inside, the new underground gallery and exhibition building (called Ackerhof) present the 19th- and 20th-century collections along contemporary, abstract lines. The space on the second floor of the new building is dedicated to temporary exhibitions: its gabled roof and exceptional height (11.5 meters) reflect the proportions of the Dominican church standing opposite. The former municipal baths are connected to the new exhibition spaces, and serve as a venue for concerts, conferences, events and art installations. The Ackerhof and the small house have facades made of irregular, hand-broken bricks, entering into dialogue with the convent facades in quarry stone and plaster that were redone many times over the centuries. A few lancet windows are cut into these brick walls; the roof gables are in copper. The new courtyard is paved in sandstone, as is the Unterlinden square, while the enclosing walls are made of the same brick as the new buildings. 
Obra Work
Ampliación del Museo Unterlinden Extension of Musée Unterlinden, Colmar (France).
Cliente Client
City of Colmar, France
Arquitectos Architects
Jacques Herzog, Pierre de Meuron, Christine Binswanger (socio encargado del proyecto partner in charge); Christoph Röttinger (director de proyecto project director), Christophe Leblond, Marco Zürn (equipo de proyecto project team); DeA Architectes (arquitectos asociados partner architect).
Museografía Museography
Jean-François Chevrier (historiador art historian), Élia Pijollet (asistente assitant).
Fotos Photos
Herzog & de Meuron; Iwan Baan; Ruedi Walti; Peter Mikolas.