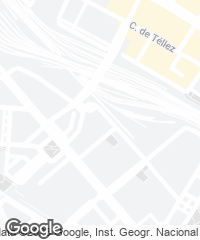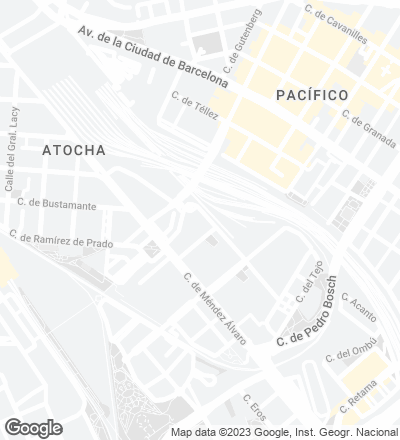 THESE NEW social dwellings built in the  Atocha neighborhood, north of Méndez Álvaro street, propose a contrast with the homogeneous scheme that characterizes the urban blocks raised in the area. Parallel to the railway tracks as they reach Atocha Station, the plot borders on a housing building to the west, together becoming the last strip of urban construction south of the tracks.
The formal variation with regards to other blocks and the presence of the railway tracks determine the volume of the building. The shape of the site encourages to apply a dual-aspect housing type, but the relationship of the apartments with the exterior varies on the upper floors, as the distance with the train tracks increases. This approach favors the inclusion of a different type for the higher floors: an isolated housing model which recovers the attic with terrace for social housing. The insertion of this model in the upper floors interrupts the linear sequence of the facades, creating a reduced-scale skyline that wraps up the contour of the block. The empty strip of the railway tracks provides sufficient perspective to observe this profile from afar, standing out amid the linear and unitary cornice lines.
En el borde de las vías de tren y el tejido residencial, este bloque de viviendas sociales está rematado por una tipología de ático con terraza que, extendida por las últimas plantas, crea un skyline propio y evita la homogeneidad urbana.
The building finishes are arranged following a gradated perception from a long and from a short distance. The material chosen for the exterior – extruded aluminum pieces in two colors – addresses the urban character of the block, pursuing the abstract perception over the observer from a distance. The color of the facade pieces darkens on the recessed surfaces of the last floors to visually break their continuity, reduce the scale and emphasize verticality. The block envelope is completed with a unitary building system to optimize costs and performance. The facades are ventilated and have double insulation, and the number of windows depends on their orientation. 
However, the closer contact with the building pursues warmth with more traditional materials such as wood. The accesses to the blocks, considered meeting points and identifying elements of the house with the urban and social plane, are different to underscore an individual identity and escape the perception of serial housing. A large void between the accesses connects them with the public ground; this air cushion aims to become a stage for life and a meeting space for the community.
Cliente Client
EMVS: Empresa Municipal de la Vivienda y Suelo
Arquitectos Architects
Solid arquitectura: Álvaro Soto, Javier Maroto
Colaboradores Collaborators
Lidia Fernández (arquitecta en obra architect on site), José Carlos de Vicente (aparejador en obra quantity surveyor on site), Fernando Muñoz, Uriel Fogué, Carlos Palacios, Marcos García, Daniel del Pozo, Gorka Calzada, Ion Cuervas-Mons
Consultores Consultants
Gabriel López (aparejador quantity surveyor); Beatriz Lombao (paisajismo landscape); José Luis Gutiérrez, Jofemar (estructura structure); Geasyt (instalaciones MEP)
Contratista Contractor
Sacyr Vallehermoso
Fotos Photos
Javier Callejas