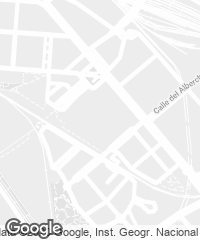 Méndez Álvaro, an industrial area that is developing quickly in the south of Madrid, is the location chosen for the construction of the new headquarters of the Spanish multinational company Repsol. The new business campus consists of four buildings that, as in a monastery cloister, are laid out around a large courtyard. This extensive green area, with communal spaces and landscaped gardens, becomes one of the key elements of the project.
Consisting of four buildings wrapped  around a landscaped courtyard, the new  Repsol business campus in Madrid has capacity  for a staff of 4,000  people in a built area of 124,000 square meters.
With an expressive volumetric design, the building has a ground floor plus four stories, and each volume is designed as a longitudinal glass box. The offices, occupying the four top floors and visually disconnected from the ground floor, are prisms that longitudinally cross a sequence of perpendicular porticoes. The four floors are gathered two by two, so along the elevation they cross one another transversally. Transition spaces are in this way created within the enclosure of the frames, enhancing the views of the exterior.
Taking part of the building's structure to the exterior permits freeing up the interior space, creating open-plan offices with a flexible distribution. The four buildings are connected by four-level footbridges.
The vertical communication cores are located at the end of each prism, aiming in this way to free up as much office space as possible. The secondary cores of restrooms occupy the central part of the floor plan, functioning as hinges to articulate the shift produced here. The floors are very deep and held by two rows of columns, one of them intermediate and visible. The resulting open-plan space ensures natural light, as well as a maximum flexibility in the distribution of spaces and workstations, in case needs should change in the future.
The facades are made up of large-sized glass panels that adapt to the structure of the porticoes without needing intermediate vertical frames, and favoring direct contact with the exterior.

The four floors of  offices are harbored in glass boxes that are framed by steel fins;  the boxes shift generating terraces beneath the  fins, which give the building a dynamic appearance.
Each steel fin consists of ten parts that are welded on site, with rigidizing bars placed at the joints to reinforce the structure. The glass sheets are  tied to the fins with an element that permits gentle movements.
The new campus has obtained LEED Platinum certification (Leadership in Energy & Environmental Design), and it features all the environmental variables required: fulfilling energy rating demands, using renewable energy (1,700 square meters of photovoltaic panels), reusing rainwater, selecting low-maintenance local plant species, ensuring minimum light pollution, using a high percentage of recyclable and renewable materials (certified wood, for instance), and favoring low-emission traffic solutions (bicycle parking, use of electric and/or hybrid cars and high-occupancy vehicles).

Cliente Client
Repsol
Arquitecto Architect
Rafael de La-Hoz Castanys
Colaboradores Collaborators
Jesús Román, Concha Peña, Marcus Lassan, Carolina Fernández (directores de proyecto project managers); Hugo Berenguer (director de diseño design manager); Conchi Cobo, Guillermo Vidal, Bodo Schumacher, Laura Díaz, Hubert Lionnez, María Millán, Guillermo Cervantes, Beatriz Heras, Zaloa Mayor, María Martínez, Miguel García, Irene Zurdo y María Iglesias (equipo de proyecto project team); Alberto González, Amaya Díaz de Cerio, Mercedes Esteban y José Luis Gonzalo (arquitectos técnicos quantity surveyors); Elena López de Meneses, Loreto Muñoz-Aycuens, Adriana Rodríguez y ANER —Aguirre Newman + Enrica Rosellini— (interiorismo interiors); Luis Muñoz y Daniel Roris (infografías infographics); Víctor Coronel, Fernando Mont (maquetas models)
Consultores Consultants
NB 35 (estructuras structural engineering); Pgi Úrculo (ingeniería de instalaciones mechanical engineering); Latz+Partner con with Rafael de La-Hoz: Javier Monge, Felix Metzler, Dörte Dannemann, Daniela Strasinsky, Thibault Le Marie (paisajismo landscape)
Contratista Contractor
SACYR S.A.U.
Superficie construida Floor area
123.400 m² (total)
21.000 m² (superficie de urbanización landscaping)
66.803 m² (superficie construida total sobre rasante floor area above ground)
Presupuesto Budget
94.782.400 euros (PEM)
Fotos Photos
Alfonso Quiroga, Repsol