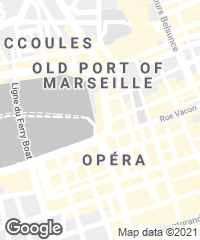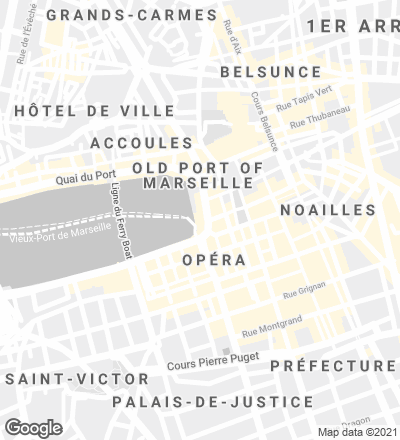 Marseille's Vieux Port is one of the grand Mediterranean ports, but over time the World Heritage-listed site has become inaccessible to pedestrians and has been cut off from the life of the city. The masterplan for its regeneration reclaims the quaysides as a civic space, creating new informal venues for performances and events and removing traffic to create a safe, semi-pedestrianised public realm. Its transformation is one of a series of projects completed for the city's year as European Capital of Culture 2013. The other designated city this year is Kosice in Slovakia.
Architecturally, the space has been enhanced using very discreet means that respect the port's original character. At Quai des Belges, the prominent eastern edge of the harbour, a blade of reflective stainless steel shelters a flexible new pavilion for events and markets. The new pavilion is literally the reflection of its surroundings, because the polished underside of the canopy reflects the water and life of the port, while appearing as a simple line of silver on the horizon.
Open on all sides, the 46 by 22 metre 'ombrière' is supported by slender pillars and tapers towards the edges, minimising its profile and visual impact. The completely horizontal mirrored layer conceals the metallic profiles within the thin roof. Before reaching the outer perimeter, a gutter collects rainwater and redirects it towards the drainpipes embedded in the pillars. Along the edges the section of the profiles is significantly reduced, until the edge thickness is minimal.
The landscape design, which was developed with Michel Desvigne, includes a new pale granite surface, which echoes the shade of the original limestone cobbles. Planting is kept to a minimum in favour of hard-wearing, roughly textured materials appropriate to the port setting. The design eliminates kerbs and changes in level to improve accessibility, as well as using removable cast iron bollards to maximise flexibility. The pedestrian area around the harbour has been enlarged and traffic will be gradually reduced over the coming years to provide a safe, pedestrianised environment that extends to the water's edge. Enlarging the space for pedestrians, the technical installations and boat houses on the quaysides have been replaced with new platforms and clubhouses over the water. These let port activity continue as usual, in spite of the transformation. 
Cliente Client
MPM, Marseille Provence Metropole
Arquitecto Architect
Foster + Partners
Colaboradores Collaborators
Michel Desvigne, Tangram Architectes
Consultores Consultants
Ingerop Mediterannee, Aik Yann Kersale
Fotos Photos
Nigel Young / Foster + Partners; Foster + Partners; Eiffage