Pier 55, Little Island, Park and Performance Space, New York (in construction)
Heatherwick Studio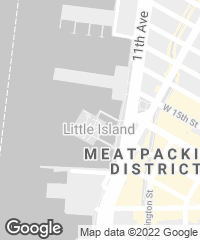 The location was the original Pier 54, on Manhattan's southwest riverside, where the survivors of the Titanic disaster docked. Together with his wife Diane von Furstenberg, Barry Diller had been a key supporter of the celebrated High Line Park in New York. Following this he had started a partnership with the Hudson River Park Trust to create a new structure as part of a wider series of public spaces.
The first thought was not simply to rebuild a new pier on the site of the previous one. Instead the team believed it was probably more appropriate to consider the whole area as a single body of water and to place the new structure in the middle. The team were struck by the tips of the hundreds of wooden piles which peppered the water now that the pier decks they had once supported were gone. These blackened objects were steeped in maritime history and seemed to form an amazingly atmospheric reminder of the city's economic boom in the early twentieth century.
The resulting design developed as a system of repeating piles which form a generous planter at their top. Every planter then connects in a tessellating pattern at different heights to create a single manipulated piece of landscape.
Obra Work
Pier 55
Cliente Client
Hudson River Park Trust (HRPT) & Pier 55 Project Fund (P55P)
Arquitectos Architects
Heatherwick Studio; Mat Cash (dirección de grupo group leader); Paul Westwood, Neil Hubbard (dirección de proyecto project leader); Simona Auteri, Jordan Bailiff, Einar Blixhavn, Mark Burrows, Mat Cash, Darragh Casey, Jorge Xavier Méndez-Cáceres, John Cruwys, Antoine van Erp, Alex Flood, Michal Gryko, Hayley Henry, Ben Holmes, Ben Jacobs, Stepan Martinovsky, Simon Ng, Wojtek Nowak, Hannah Parker, Giovanni Parodi, Luke Plumbley, Jeff Powers, Enrique Pujana, Akari Takebayashi, Ondrej Tichý, Ahira Sanjeet, Charles Wu, Meera Yadave (equipo team)
Colaboradores Collaborators
Arup, Charcoal Blue, Steven Daldry, Scott Rudin, Kate Horton, MNLA, Mueser Rutledge Consulting Engineers, Hunter Roberts Construction Group