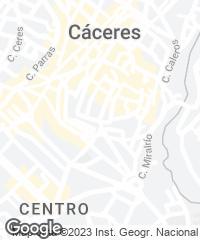 Built over different periods starting in the 15th century, the Paredes-Saavedra House is a small-size urban fortress within the walled area of the city of Cáceres.
The building is organized on three floors around a small asymmetrical interior atrium and with a rear courtyard, and is the result of the concatenation of spaces, built in different periods, which form an asymmetrical organization of structural load-bearing walls within which the tower, lopped in times of the Catholic Monarchs, can be considered a unique element of the civil architecture of Cáceres.
The project to renovate and refurbish the Paredes-Saavedra House has been carried out with the purpose of making space for ten new rooms to complement the offer of the Hotel Atrio Relais Chateaux, an establishment with another fourteen rooms currently, and which is situated very close to the building. These new rooms adapt in different ways to the original stately house, and try to make the most of the existing spaces, taking into consideration the specific conditions of each one of them.
The intervention is based on the respect for the original structure of the historic building, with the incorporation of a contemporary architecture that, as if it were un undergarment, gradually lines the existing surfaces with timber vaults on the ground level, and coffered ceilings, also made of wood, on the two upper floors.
The refurbishment clearly defines a diagonal sequence of spaces that goes from Calle Ancha to Calle San Pedro, passing through the vaulted hallway – which includes a site-specific work by the Portuguese artist José Pedro Croft –, the asymmetrical atrium with a sequence of brick vaults that rest on Doric columns, and the outdoor garden courtyard with a small pond. The project brings the tower back to its original height with the purpose of contributing to improve the profile of the city, especially on Calle Ancha.
The Paredes-Saavedra Palace House refurbishment project tries to rethink the city from the budgets that made it possible, imagining how this can be achieved in our days. In this way, the refurbishment is a proposal that respects the character of the place, and its main objective is to coexist in this environment with dignity, trying to combine tradition and contemporaneity...[+][+]
Cliente Client
Privado (Restaurante Atrio. San Mateo Hotel s.l.)
Arquitectos Architects
Emilio Tuñón, Carlos Martínez Albornoz
Colaboradores Collaborators
Javier Chavez, Julia Díaz Beca, Inés García de Paredes, Catarina Pereira, José Ramón Rodríguez, Gador Potenciano; José Pedro Croft (artista site-specific artist); Alfonso Gómez Gaite (estructuras structures); ÚRCULO ingenieros (instalaciones mechanical engineering); Sancho Páramo (arquitecto técnico quantity surveyor)
Superficie construida Floor area
1.400m²
Presupuesto Budget
4.000.000€
Fotos Photos
Luis Asín