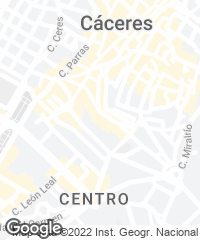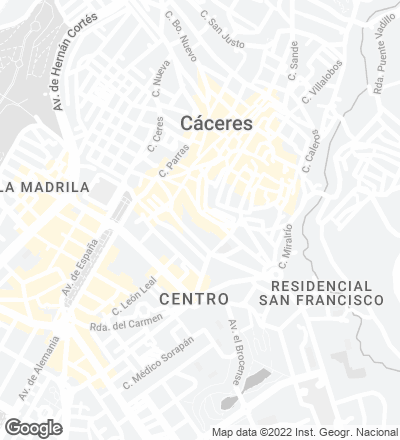 The second phase of the Helga de Alvear Museum of Contemporary Art aims to create an efficient and versatile cultural hub with a clear and balanced image. A simple and recognizable volume, from a formal and structural point of view, that establishes a close dialogue with the adjoining Casa Grande, a building from the beginning of the past century and refurbished by the studio in 2005, in a first phase of the project.
The building adapts to the alignments of the plot, defining new coordinate axes that are not orthogonal with regards to one another, recognizable both from the exterior and the interior. Because of the marked unnevenesses of the plot and the considerable earthwork required, the foundation is carried out with micropiles of variable depth.
Above a foundation of micropiles goes the load-bearing structure in white reinforced concrete, built as freestanding pillars or as comb walls depending on the lighting needs. Comb walls are chosen for the exhibition halls, serving as a mechanism to protect the pieces on display, while in the circulation areas and other spaces freestanding columns are preferred because they let light from the outside come inside.
Both structural solutions define the entire project, and configure the external appearance of the volume. Quite hermetic on the outside, the building has carefully placed square-shaped openings that illuminate a specific series of spaces, with top light mainly.
The facades are a reflection of the structure, and thanks to their proportion of pillar heads of 20 cm and 60 cm in depth it is possible to achieve light and shadow effects only interrupted by the large squared openings. The windows are rounded off on the outside with black bakelite, and on the inside with treated oak wood, bringing warmth to the interior spaces. The exposed exterior structure isolates the building on the inside.
As for the interior finishes, the whole building is clad in a double plasterboard painted white, offering a neutral canvas on which to display artworks and items. The walls are screwed on to a 25 mm plywood board held by a metallic substructure, allowing its use to support very heavy or very large pieces. The interior floor surfaces are built with gray polished concrete, which creates a certain chromatic contrast with the white walls and ceilings.
Museo Helga de Alvear
Helga de Alvear Museum, Cáceres (Spain).
Cliente Client
Gobierno de Extremadura, Fundación Helga de Alvear.
Arquitectos Architects
Emilio Tuñón (socio partner); Carlos Brage, Andrés Regueiro, Ruben Arend, Rosa Bandeirinha, Inés García de Paredes, Julia Díaz Beca (equipo team).
Consultores Consultants
GOGAITE Ingenieros Consultores (estructura structure); Úrculo Ingenieros (instalaciones MEP services); Sancho Páramo (arquitecto técnico quantity surveyor).
Contratista Contractor
VIAS.
Superficie Area
5.000 m².
Fotos Photos
Amores Pictures.