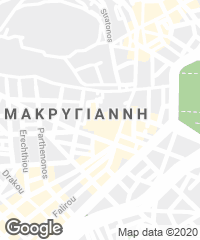 This project was the winning proposal in an international competition held in the year 2001. The new building is located in a strategic area of the city, only 300 hundred meters from the Athens Acropolis, in the historic district of Makryianni. Its location by a series of pedestrian walkways that link the area's main archaeological sites, turns the building into a key piece of this complex, which is listed as World Heritage Site. 
 The building is articulated in three layers that hover over the archaeological remains found during preconstruction, and that have been integrated to the museum design as an essential part of the experience offered by the institution to its visitors. The first of these layers, the base, floats over the excavation site on slender reinforced concrete pillars that, strategically placed, contain the main entrance and the temporary exhibition spaces, as well as openings and glass floors overlooking the archaeological remains below. A ramp leads to the double-height space in the middle section, which accommodates the permanent collection galleries, encompassing from the Archaic to the late Roman period, aside from a mezzanine level with catering areas and a public terrace.?The museum culminates in the Parthenon Gallery:?a rectangular, glass-enclosed and top-lit space that is rotated 23 degrees with respect to the rest of the building so as to line up with the Parthenon, which can be seen thanks to the glass that wraps up the space. In the center of the gallery, a core supports the frieze of the temple, which has been placed with the same composition and orientation as in the original building, and which contains both original pieces and cast copies of some art works currently shown in museums abroad, such as the British Museum and the Louvre. 
 The circulation through these different layers of concrete, marble and glass – the main building materials – generates a three-dimensional loop, guiding visitors through the museum collection in a chronologically ordered sequence, starting with the remnants located in the entrance gallery, continuing with the classical period works of the Parthenon Gallery and finishing in the Roman Empire exhibition halls. Since most of the collection consists of sculptures, many of which originally decorated the monuments of the Acropolis like the Propylaia, the Erechtheion or the Parthenon, large glazed openings permit the entry of natural light into the exhibition galleries, recreating the exterior atmospheric conditions.

Cliente Client
Ministerio Italiano de Cultura
Arquitectos Architects
Bernard Tschumi Architects;
Michael Photiadis (ARSY) (arquitecto asociado associated architect) Colaboradores?Collaborators Bernard Tschumi Architects: Bernard Tschumi (jefe de diseño lead designer), Joel Rutten (jefe de proyecto project architect), Adam Dayem, Aristotelis Dimitrakopoulos, Jane Kim, Eva Sopeoglou, Kim Starr, Anne Save de Beaurecueil, Jonathan Chace, Robert Holton, Valentin Bontjes van Beek, Liz Kim, Daniel Holguin, Kriti Siderakis, Michaela Metcalfe, Justin Moore, Joel Aviles, Georgia Papadavid, Allis Chee, Thomas Goodwill, Véronique Descharrières, Christina Devizzi; ARSY: Michael Photiadis (director principal), George Kriparakos, Nikos Balkalbassis, Athens Philippos Photiadis, Jaimie Peel, Niki Plevri, Maria Sarafidou, Makis Grivas, Elena Voutsina, Manoulis Economou, Anastassia Gianou, Miltiadis Lazaridis, Dimitris Kosmas
Consultores Consultants
ADK, Arup (estructura structure); MMB Study Group, Arup (instalaciones mechanical and electrical engineering); Michanniki Geostatiki, Arup (ingerniería civil civil engineering); Theodore Timagenis (acústica acoustics); Arup (iluminación lighting)
Contratista Contractor
Aktor Fotos Photos Nikos Daniilidis, Peter Mauss/Esto, Christian Richters, Bernard Tschumi Architects