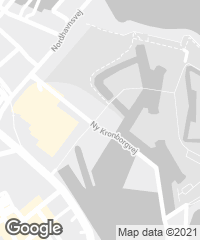 Ever Since it was founded in 1915, the home of the Danish Maritime Museum was Kronborg Castle, a building dating back to the year 1574 that sits on a small peninsula and is known to be the setting of Shakespeare's Hamlet. The museum was forced to leave the place, however, when the UNESCO added the castle to its World Heritage Sites list and the authorities decided to reconstruct its original interiors. The museum was moved to a site close by, an old dry dock situated just a few meters from the castle. In the ensuing competition for the institution's new home, the winning design was the only entry to arrange the building around the dock instead of within it, as the brief had indicated. The intention was to preserve the historical dock as an urban void set eight meters below sea level. In this way, the castle's surroundings would be kept practically intact, at least at ground level. That this was a good decision was confirmed by the initial technical surveys, which revealed that the walls of the dry dock depended on the resistance of the water filling it to remain stable, so much that if the water was removed, the pressure of the surrounding soil would make it necessary to build a new dock within the existing one. Because the museum program was organized around the dock instead of inside, it was not redundant to build a new retaining wall.

Obra Work
Museo Marítimo de Dinamarca Danish Maritime Museum (Denmark).
Cliente Client
Elsinore Municipality
Arquitectos Architects
BIG / Bjarke Ingels Group.
Colaboradores Collaborators
D. Zhale (jefe de proyecto project leader); R. Hansen, K. Hammer Hansen, A. Yu, P. Labra, M. Jay, M. Navriku, Q. Lim, P. Rieff, T. Lund Højgaard, A. Jensen, J. Cool. S. Sosio, T. Bennet.
Fotos Photos
Ole Thomsen, Dragor Luftfoto, Luca Santiago Mora, Rasmus-Hjortshoj