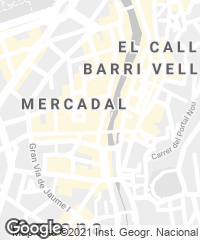 Close to the El Molí power plant and the Puente de Piedra (stone bridge) over the river Onyar in Girona, at Santa Clara 11, stands this residential block by Lagula Arquitectes, the Barcelona firm headed by Toni Alonso, Martín Ezquerro, Ignacio López, Manel Morante, and Marc Zaballa.

A La Caixa banking office from the 1970s became eight dwellings, two duplex attics, and two commercial units, maintaining part of the existing slabs and facades. The roof and the materials were adapted to local standards specific to the city's old quarter.

The project's main strategy revolved around a new courtyard, with its skylight that curves on plan and varies in section, forming the heart of the new building and providing the apartments with light and ventilation.

A second skylight, opening out to the inner block courtyard, reinforces the latter's role as a refurbished public passageway connecting Calle Santa Clara to Plaça Josep Plà i Casadevall.

The main facade preserves its representational character and its stuccos, respecting the vertical forms of the original perforations. The mullions facing the living rooms were removed.

Without using up the entire buildable depth, the rear facade incorporates a system of catwalks and balconies that includes the fire escape stairs.