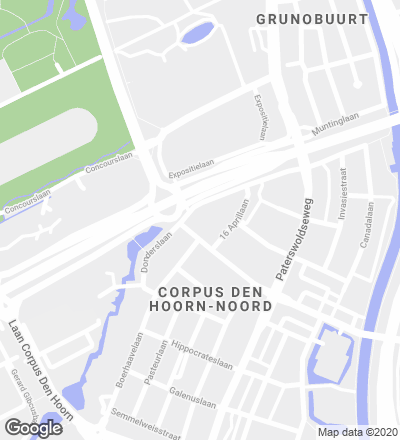 Groningen has been trying for years to 'intensify' its urban fabric, avoiding suburbanization, protecting rural areas and promoting the quality of the public spaces in the city. This building complex is an example of this effort, a development which combines social housing for rent with space for offices. Located in an environment marked by the presence of one of the main highways in the country, the two blocks that make up the complex address the scheme proposed by the city to build in height and in this way preserve the green areas and create a sort of ecological and transitable circuit.
Both buildings have a square floor plan, but differ in height, the first one rising 80 meters and the second 40, so that their image staggers over the low-rise blocks of the environment. The glass volumes on which they rest accommodate offices and convey a sense of lightness and of contrast with the upper opaque volumes, which include the five three-bedroom apartments that take up each floor. Between both uses there is a transition level devoted to communal spaces, in which a platform connects both buildings and offers views over the surrounding landscape.  
Cliente Client
Christelijke Woningstichting Patrimonium
Arquitectos Architects
Dominique Perrault Architecture; Oving Architekten (arquitectos asociados associated architects)
Consultores Consultants
Dijkhuis Groningen (estructura structure); Zonderman B.V. (instalación eléctrica electrical engineering); Feenestra (climatización heating and ventilation systems)
Contratista Contractor
Gevekebouw B.V.
Fotos Photos
Prima Focus; Jim Ernst