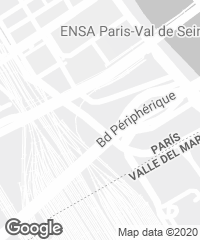 In 1985, the Paris City Council and the Société Anonyme de Gestion Immobilière held a competition for the construction of the Industrial Hotel Jean-Baptiste Berlier. It was to be located on a plot of land between the highway interchange of the eastern section of the Paris beltway, the embankment roadway of the Quai d'Ivry running along the Seine and the vast web of railway tracks leading to the Austerlitz train station, in the center of the city.
This apparently ill-fated site is however a place full of energy – a space traversed by the lines of force of traffic and transportation, of mobility – that the proposal seems to absorb to its own benefit. The answer to this singular atmosphere is a glass box, able at the same time to reflect all these circulation flows on its surface and to open up to a clearly urban landscape showing the different activities that take place in the interior.
Though the site's challenging configuration was no surprise, program specifications left the nature of future tenants' activities wide open. This explains the office building and industrial space hybrid that emerged. The Hôtel Berlier was designed to be as adaptable as possible to the unknown business functions it would house. This strategy was developed through open plan floors and tight bundling of electrical systems, organized around the two central blocks containing the stairwells, technical and elevator shafts and lavatories.
The most apparent architectural innovation is the role given to the curtain facade. Its technically 'dense' organization manages the building's ventilation and filters light (mainly through sunshades). Visually, its 'sensitive skin' resembles a glass block scattering variegated light onto its surroundings and distributing fluctuating light intensity within, depending on the weather and time of day. In sum, "it's a building that changes its skin" says Perrault.
And indeed it does, both through the corporality of its glass envelope and the broad diversity of businesses it has welcomed since opening. Dominique Perrault even headquartered his firm there until 2007. The antithesis of a solitary machine, the Industrial Hotel Berlier is a lively and bustling mixed-use building. It's not a question of constructing a historic building, an eco-museum on hold, but a living system vibrant with the shock waves of its present environment, because this object is there, and not elsewhere.
Cliente?Client
S.A.G.I. Société Anonyme de Gestion Immobilière
Arquitectos?Architects
Dominique Perrault Architecture
Colaboradores?Collaborators
Christian Basset, Aude Perrault, Bernard Ropa, Jacques Touchefeu, Blin Voose
Consultores?Consultants
Planitec (dirección de proyecto project manager); Technip Ingenierie (ingeniería engineering); Veritas (control técnico control office); Rinaldi Structal (fachada facade)
Contratista?Contractor
Bouygues Fotos?Photos Michel Denancé