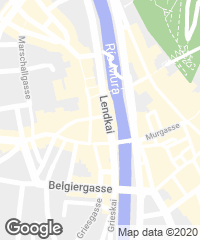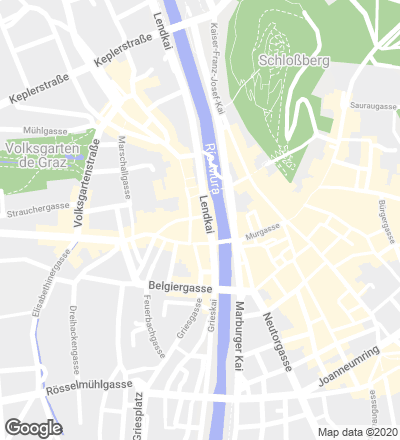 For centuries, the quarter of Murvorstadt remained in the shadow of the historic center of Graz, located on the opposite shore of the River Mur. The bridge joining both banks and most of the buildings around it were ruined in the floods of 1827, urging to initiate a process of urban refurbishment which included the construction of a modern bridge and the adoption of new security measures. After the disaster, the desire to revitalize the neighborhood led to the construction of an innovative and multipurpose commercial building, meant to become a meeting place, known as the Eisernes Haus (Iron House). The avant-garde technology of this building – it was the first cast-iron construction in Europe – reflected an optimistic view of the future. Aside from being a technological object imported from England, and aside from its lightness and transparency, the new Kunsthaus shares, two centuries later, the very same objectives as the Eisernes Haus, which it adjoins.
During the day, the new museum of contemporary art appears as a bulging bluish cloud which adapts to the empty space left by the demolition of several houses and that remains carefully detached from the ground and the surrounding buildings. This wavy blob clad in a methacrylate skin houses all the exhibition halls in its interior, establishing a clear difference between those spaces restricted to museum opening hours and the rest. Loyal to this type of organization which separates different functions in different volumes, the restaurant takes up a narrow and elongated box formed by two parallel steel trusses – that jut out over the side facing the main street –, and three levels of parking space are located underground.
On the entrance level, a mechanic ramp crosses the floor from north to south leading visitors to the core of this shimmering bubble. The construction envelopes the two large exhibition halls of the museum, one with almost no natural light and the other one illuminated by a series of skylights looking northward, responsible for the biomorphic appearance that the building offers from the air. At night, an installation of 930 standard circular 40 W fluorescent lights located beneath the curved skin of blue panels counteract the opacity of the main volume, illuminating its more public facade and allowing to generate graphic signs that attract the eye towards the site of the new cultural center... [+]
Cliente Client
Ayuntamiento de Graz, Kunsthaus Graz
Arquitectos Architects
Spacelab: Peter Cook, Colin Fournier
Colaboradores Collaborators
Peyker, Domenig, Eisenköck (arquitectos asociados associated architects); Niels Jonkhans, Mathis Osterhage, Marcos Cruz, Nicola Haines, Karim Hamza, Anja Leonhäuser, Jamie Norden
Consultores Consultants
Bollinger & Grohmann (estructura structure); Realities United (fachada electrónica electronic facade); Kress & Adams (iluminación lighting); Bogner Cultural Consulting (museografía museography).
Fotos Photos
Elvira Klamminger, Paul Ott; Paul Raftery/View; Peter Durant/Arcblue; Niki Lackner; Monica Nikolic.