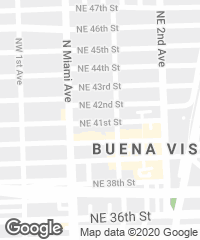 The new Institute of Contemporary Art (ICA) in Miami's Design District is a cubic building that closes up on its east and west sides but opens to the north and south, forming something like an urban pergola. Over the main entrance, which faces south, the museum presents a facade of triangular aluminum blocks interspersed with transparent planes bringing in light. Starting under this fractured facade, a distributing corridor stretches inward, reaching the north elevation of the building and a sculpture garden.

The north facade is almost completely taken up by a screen of glass that brings natural light into the museum's exhibition galleries while creating a play of visual connections between the interiors and the garden. 
 This part of the project is dominated by a large screen of glass taking up practically the entire facade. Thus the project manages to provide the exhibition galleries with filtered natural light, and to create a series of visual connections between the inside of the volume and the garden, which is intended as another of the museum's principal exhibition areas. 

The huge box contains three floor levels but the headroom varies between five and nine meters, in accordance with needs. The building's circulation elements are organized to ensure programmatic flexibility for the exhibition spaces, in such a way that they can be subdivided or made to flow into one another. Hence the ICA seeks to be able to accommodate a diversity of contemporary art forms, and to adapt to the constant, vertiginous stretching of the limits of expression.

Obra Work:
Museo ICA en Miami (Estados Unidos) ICA Museum in Miami (United States).
Cliente Client:
Norman e Irma Braman /Fundación ICA Miami.
Arquitectos Architects:
Mª José Aranguren López, José González Gallegos.
Colaboradores Collaborators:
Pablo Aranguren, Blanca Juanes, Miguel Alonso, Jacobo Arenal Frías, María Aranguren, Eduardo Tazón.
Paisajismo Landscape:
Fernando Wong & Wolfberg Alvarez & Partners.
Fotos Photos:
Iwan Baan.