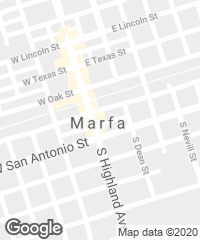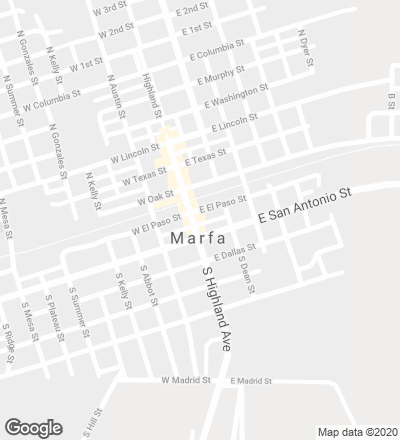 The Hotel Saint George is in downtown Marfa, the fabled Southwest Texas town, known for the beauty of its Chihuahua desert landscape and the installations of the artist Donald Judd and specific works by some of his contemporaries.
The hotel is a three-story light steel structure atop an existing one-story 1929 retail building. The 12,000 square foot footprint of the existing reinforced concrete building was subdivided into multiple retail spaces, which were removed to produce a continuous space. This new space accommodates the public amenities of the hotel such as lobby, restaurant, bar, bookstore and reception areas. The three new floors house the hotel's 53 distinct rooms, each with uniquely framed views of the town and its myriad landscape.
The removal of the ground floor walls and reflected ceilings allowed us to expose the beauty and intricacy of the concrete armature of columns and beams. There is a purposeful treatment of all surfaces in this reconfigured public space, which also informs the discreet economy applied to the building exterior. The subtle interplay of a marble mosaic plinth with light stucco banding for all upper floors (painted two variations of the same white), animates the exterior massing.
Superficie Building size
4.400 m² 47,000 ft²
Finalización Completion
2016
Cliente Owner
Tim Crowley
Arquitecto Architect
Carlos Jiménez Studio, Houston, Texas; HKS, Dallas arquitecto local architect of record)
Equipo Project team
Carlos Jiménez (director, autor del proyecto principal, project designer); Vy Drouin-Le, You Chia-Lai, E.Kerry Joyce, Sophie Jonson
HKS: Nunzio DeSantis, Principal; Mary Alice Palmer (director principal); Zachary Jekot, Adele Cuartelon
Consultores Project consultants
Lawrence Rickels, Datum Engineers, Inc, San Antonio, Texas (estructura structure);Schmidt & Stacy Dallas, Texas (MEP); Alice Cottrell (mobiliario furniture)
Contratista Contractor
Jordan Foster Constructions, San Antonio, Texas
Fotos Photos
Paul Hester, Hester+Hardaway Photographers