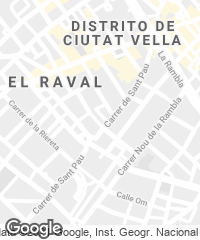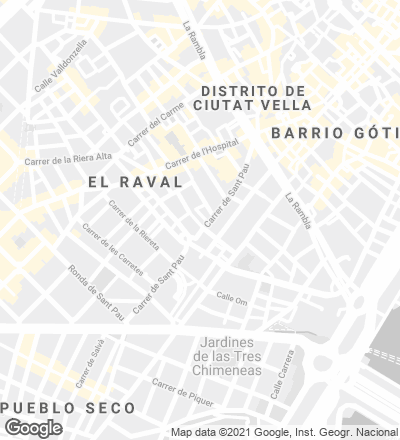 THE BOHEMIAN neighborhood of El Raval  has a long history of conflict. Over the last decades, the Barcelona City Council has promoted several interventions to improve safety and in this way ensure that this area close to landmarks like Las Ramblas or the Gothic quarter could also begin to lure tourists. This approach has sparked a heated debate in the city between those in favor of cleaning up the neighborhood and improving safety there and those against these measures, mostly neighbors affected by expropriations and demolitions. In this context, the Film Library of Catalonia, the case in hand, is an example of the recurrent controversy that surrounds municipal initiatives in El Raval. Included in the Operación Illa Robadors, its construction and that of a nearby hotel brought about the demolition of many popular buildings.
Located in the heart of El Raval, a popular neighborhood very close to Las Ramblas, this building wishes to contribute to the regeneration of the urban and social environment with its cultural program. 
The relationship with a crowded urban fabric affects the characteristics of the new building, and especially its volumetry. Hence, to reduce its impact and equal the height of the buildings in the nearby blocks, the audiovisual rooms have been buried in two floors below grade. On ground level the lobby links Espalter street with the Salvador Seguí plaza, a new space that brings light and air into the area. The building respects the existing urban fabric of narrow streets and as a counteracting measure, the side facades have porches protected by cantilevered slabs. As for the program, it gathers functions that up to now were scattered in different places: library, archive, and two audiovisual rooms, as well as administration spaces, exhibition rooms and a cafeteria. 
El esquema estructural surge de la ordenación espacial del edificio, utilizando para ello dos volúmenes de planta rectangular: uno de ellos completamente soterrado, y el otro sobre rasante. Mientras que las fachadas longitudinales mantienen una alineación clara, las de los testeros se van plegando creando una sucesión de cuerpos volados. Los dos muros longitudinales exteriores actúan como pantallas-viga y constituyen las líneas de descarga de la estructura. Ello es así para evitar la colocación de soportes intermedios, algo necesario por los requerimientos funcionales y la concepción espacial del edificio. El cuerpo soterrado acoge las cajas de los cines y necesita disponer de amplios espacios diáfanos, y el cuerpo sobre rasante busca la mayor flexibilidad posible, así como facilitar la entrada de la luz desde el exterior. 
In spite of the massive appearance of the new building, part of the program has been concealed below grade to reduce its impact on the environment. The audiovisual rooms are located in those floors. 
The building is devised as a series of filters: exterior ones, like the wire patterns and perforated metallic sheets that control sunlight; and interior ones, like the colored glass walls dividing the space.  
Cliente Client
ICIC (Institut Català de les Indústries Culturals)
Arquitecto Architect
Josep Lluís Mateo
Colaboradores Collaborators
Jordi Pagès (responsable del proyecto project leader); Xavier Monclús, Enriqueta Llabrés, Benjamín Scharf, María Matamala (proyecto?project); VickyDaroca, Marc Pi, Xavier Monclús, Marta Gual (dirección de obra site supervision); Marc Camallonga, Enriqueta Llabrés, Adriana Porta, Lucas Echeveste, Ismael Heras, Daniel Blüm (concurso competition)
Consultores Consultants
BOMA, Agustí Obiol (estructura structure); Grupo JG (instalaciones services); Francesc Labastida (protección contra incendios fire protection); Tram (presupuesto budget)
Contratista Contractor
Emcofa
Fotos Photos
Adrià Goula