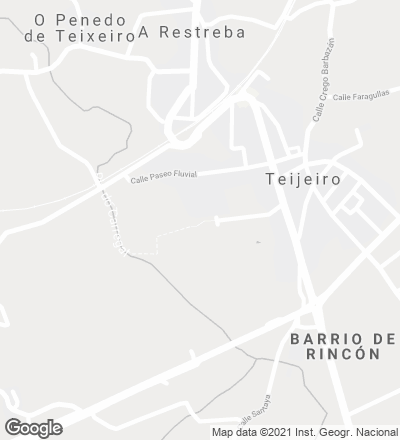 Located on the plains of the upper part of the Mandeo River basin, in the Galician municipality of Curtis – some 40 kilometers from A Coruña –, the new Ethnographic Center has a double role: an educational one, with courses and workshops; and an informative one, highlighting the cultural and ethnographic heritage of this area. The center is situated in a privileged natural environment, and the building becomes a stop on the road, an element that is fused with the existing trees, evoking the original cabin type and blending into the landscape, which plays the leading role.
Located in the remarkable landscape of the Mandeo River basin, the Ethnographic Center is a space for education and information, and is conceived as a primitive 'cabin' that melds with  the surrounding woods. 
The design sought a building able to adapt to the surrounding scale, both in height and in plan, and this guided the decision of proposing a group of small modules that come together to accommodate the program, without altering the volumetric configuration of the place. In this way, the project generates a sequence of volumes that can function independently or jointly, giving the piece great versatility. The use of windowless walls and others with wood slats makes reference to traditional Galician constructions, evoking the 'palleiros' (volumes adjacent to the houses and that are used for storage, as drying sheds and so forth), that are commonly found in the region.
The program is  organized in a series of volumes that are interconnected, and that can function independently or jointly,  a feature that gives  the building a great versatility of use. 
The development of the project has also brought with it an important research process that has been materialized in the use of HAC concrete in the design and construction of complex geometries. The roofs, each with different slopes and specific situations for each one of the joints, demanded a careful design of the coffering. The use of this material (sprayed from the lower parts of the walls and roofs) to configure the walls has allowed to make them compact and homogeneous. The self-compacting concrete has also allowed to resolve, with a single material, both the enclosure and the structure of the whole complex, minimizing the costs and making the superfluous elements disappear in the construction detail. The continuity is considered here as a reflection of the concept of 'cabin' in its most primitive sense.
For its part, the building is topped with a traditional gable roof that lets natural light come in through skylights located on its top part. The four roofs are interlocked depending on the different needs of the space they house, creating a unique profile in its context.
Some of the building walls are completely solid, while others let light come in through wood slats, making reference to the typical structures so present in the area – the traditional 'palleiros'  of Galicia. The gable roofs of the modules  let daylight in through roof skylights. 
Cliente Client
Excma. Diputación Provincial de A Coruña
Arquitectos Architects
Santiago Barge, Mª Belén Bouza, Olalla Barge Ferreiros
Colaboradores Collaborators
Diego Lareo (arquitecto architect); Santiago Barge, Mª Belén Bouza, Fernando Cebrián (dirección de obra site supervision); José Manuel Yánez (aparejador quantity surveyor)
Contratista Contractor
Construcciones Fontenla
Superficie construida Floor area
774 m²
Presupuesto Budget
615.423 euros (PEM)
Fotos Photos
Héctor Santos-Díez