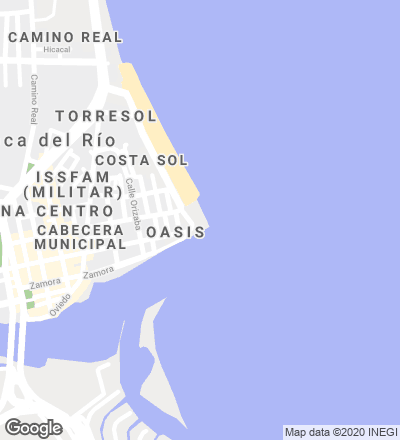 Home to the Boca del Río Philharmonic Orchestra, the Foro Boca building is part of a masterplan to revitalize the deteriorated area around the river mouth that gives the city its name.

The form of the bold volumes of poured-on-site concrte that make up the concert hall is inspired in the cement breakwaters that border the area of the coast and protect the solid ground against the waves of the sea. 
Born out of desires to connect the historical center to the coastal avenue along which the building rises, the project involved raising a series of bold concrete volumes arranged in a seemingly random way. This arrangement, thanks also to the diagonal texture of the facades, evokes the timeless image of the cement cubes that form the breakwater; and it allows addressing an ambitious program that includes a concert hall for an audience of almost 1,000 people, a versatile rehearsal hall that can seat 150, several recording studios, an area reserved for offices, a library, several cafés, a restaurant, a terrace offering views of the river and the sea beyond, and a public outdoor space thought out as an extension of the access square throughout the breakwater zone.

Obra Work: Proyecto Foro Boca en Boca del Río (México); Foro Boca Project in Boca del Río (Mexico).
Arquitectos Architects: Rojkind Arquitectos.
Área Surface: 5410 m².
Construcción Construction: Ingeniería y Desarrollo Arquitectónico S.A.
Estructuras Structural engineering: EMR S.A.
Acústica Acoustics: Akustics, Auerbach Pollock, Seamonk.
Fotos Photos: Jaime Navarro.