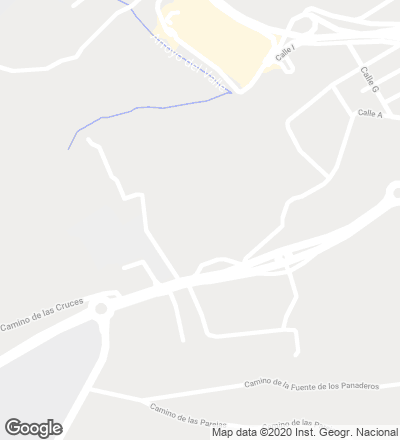 The orderly landscape of olive trees that reaches the very boundaries as Jaén is endangered by an urban center that spreads at a paced yet continuous rhythm. On this periphery of hills dotted by trees organized in a grid, the plot proposed to site the football stadium was a precipitous terrain previously occupied by a quarry. . 

The large scale of a public building of these characteristics, apart from the conditions of the plot – next to the cemetery and close to the islands of industrial sheds which extend the limits of the city – gave the chance to view the project as a territorial intervention, a geographical gesture which dialogues with the castle promontory, another topographical landmark of the area..
To alter the profile of the mountain where the parcel is located as little as possible and so to prevent the construction from resting on the parcel as a strange body, the ground becomes the most important material of the project. The field rests upon a dug out platform that allows to carve stands on the hillside.
The linear building that contains the access ramps, the grandstand, the offices, the press boxes and the rest of the facilities demanded by the program, closes the premises with a similar attitude to that of the country houses and agricultural farms of the region. This organization strategy pursues a balance between the intrinsically urban condition of the stadium and its insertion in the characteristic landscape of tidy olive tree plantations that carpets the province – a dotted pattern that is reproduced within the stadium constituting the grid of circular perforations that pierces the concrete overhang of the canopy which has been installed to shield the grandstand spectators from rain and excessive sunning.
The field is an excavated platform that allows to carve the stands in the hillside. The grandstandcanopy on one of its flanks is rounded off with a perforated overhang to conceal the facilities.
The double urban and landscape nature of the facilities also establishes the standard of the material repertoire. Brick – of which the area is an important producer – is used on the exterior walls as a clear sign of its close link to the city. The inclusion of extense landscaped surfaces on the platform that surrounds the facilities helps to merge these sports equipments with an environment of agricultural plantations, at the same time that it allows alternative uses apart from the football matches, with kiosks, playgrounds as well as promenades and resting areas. But above all, the platform upon which the stadium stands is a privileged viewpoint that offers a spectacular panorama of the city, to which this construction clearly belongs.
Cliente Client
Ayuntamiento de Jaén
Arquitectos Architects
Pura García Márquez,Ignacio Rubiño, Luis Rubiño
Colaboradores Collaborators
Daniel Montes, José María Gómez Mora
Consultores Consultants
Jesús García Arancón (dirección de obra site supervision)
Contratista Contractor
Ferrovial Agromán
Fotos Photos
Fernando Alda