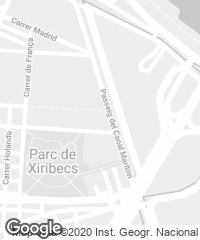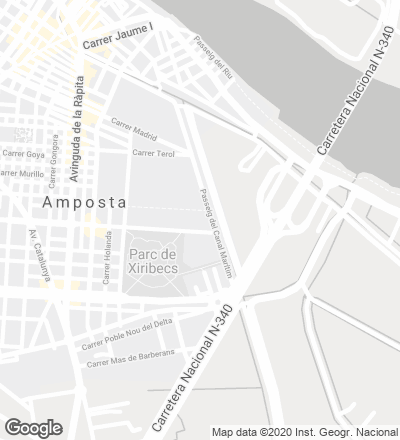 Two adjacent sites, though separated by a  road, were the starting point of a competition  promoted by the Amposta City Council. It included the construction of two buildings of very different program and scale in a peripheral, but strategic, area of the city. The first was the new headquarters of the city's School of Arts and Design, whereas the second would house a Trade Fair Center that will replace the existing one on the site, which was quite damaged. Holding just one competition for the two projects was an unusual approach. However, it also helped to ensure a unitary intervention that takes advantage of the proximity between the two sites to maximize the use of certain spaces, such as the school auditorium, which will be used by both buildings.
Located on the outskirts of Amposta, the School of Art and Design and the Trade Fair Center will share origin, organizational logic,  type of light structure and the use of certain spaces like the auditorium.
The proposal does not conceive the project as two isolated buildings, but proposes the verb 'contaminate' to explain the combination of both and thus finds a common language, both in plan and in section. In this way, the dimensions of the auditorium determine the span of the fair, whereas the smaller spaces take the dimensions of the school classrooms. The first phase only includes the construction of the school.
The metallic structure  and sheets follow the  logic of a light building, but when combined with  an abundant use of perforated brick, applying different types and arrangements, the building achieves great warmth. 
The buildings are organized in 9-meter bands of varying width and height. These bands are gathered and displaced with regards to one another depending on the program, the environment and the buildable ratios. Hence, Sebastià Joan Arbó street, which separates them, performs as an axis that generates the geometry of the project, so that the strict alignment with this road makes both buildings face one another, making the continuity of one be perceived in the other. This point of encounter is also the place where the main accesses are located: in the case of the school it happens through a large porch that links up with the area for exhibitions and with the multipurpose hall. The ground floor contains the offices and the teacher's room. The rest of the program is organized in height, in elongated floors with the two main facades facing north-south. 
To address the apparently contradictory needs of the large spans for the fair center and a smaller scale for the school, the scheme consists of a grid of columns and metallic joists of 9x7.2 meters. When the span needs to be increased, one column is removed and replaced with two diagonals, and so on up to a maximum of three columns in the case of the 30-meter span trusses used in the Fair Center.
Cliente Client
Ayuntamiento de Amposta
Arquitectos Architects
David Sebastian, Gerard Puig
Colaboradores Collaborators
Glenn Deulofeu, Rodolfo García
Consultores Consultants
Agustí Obiol (estructura structure); Servelec Psf (instalaciones mechanical engineering); Serveis d'Arquitectura Betarq (mediciones y presupuesto construction measurements and budgets)
Contratista Contractor
Construccions NSolé
Fotos Photos
Adrià Goula