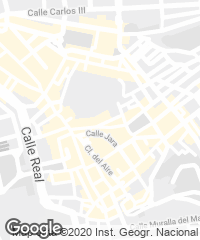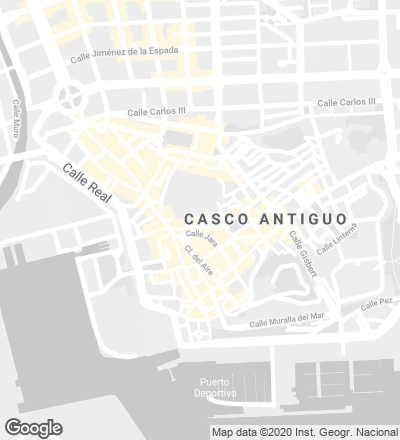 LOCATED ON the southern slope of Molinete hill, in the municipality of Cartagena, the project's purpose is to protect a group ofarchaeological remains and to wrap up the urban border at the foot of the hill. Molinete, one of the five hills that characterize the topography of the city, is undergoing a recovery program that aims to revalue the archaeological site discovered in the area, which included, among other things, native villages, a Syrian temple, a Roman forum, the old city wall and two windmills. The building is devised as a cover to protect the Roman remains (thermal baths, arena and domus) from rain and sunshine, rounded off by a series of architectural elements that help to preserve the rema
The roof, which is part of the project to build an archaeological park on Molinete hill (Cartagena), acts as a transition piece between the city and  the hillside, and also protects the remains  of the Roman forum. 
The roof is a faceted piece that extends linearly from the party wall of an adjacent building to the end of the remains of the Roman forum. Formed by a metallic structure that shapes its geometry, the roof uses translucid polycarbonate for waterproofing and a unitary exterior finish of perforated sheet that nuances the entry of sunlight. The piece rests on tree-like pillars at specific points on which micropiled concrete boxes have been raised, thus minimizing the impact on the site. 
inimizing the impact on the site. The intervention is rounded off with a green perimetral fence that delimits the urban front of the archaeological park, and with an elevated footbridge that allows viewing the remains from three meters above. This footbridge rests on the fence, on one side, and on the other it hangs from the roof structure. 
The cover is a unifying element that brings all the pieces together in a single space, permitting a free-flowing, continuous perception in the interior. However, the exterior fragmentation of the piece addresses the urban environment with a perceptive scale, both towards the city and towards Molinete Park. For pedestrians, the roof appears as a faceted element that is only partially perceptible, whereas from the top of the hill it is perceived as a unitary piece and shows a distinct volumetry adapted to the perimeter's characteristics – such is the case of the neighboring party wall, which is concealed through a fold in the structure. At nighttime, the site is illuminated artificially with lights embedded in the roof and the fence, creating an airy and theatrical perception of the whole. 
From the micropiles of  the supports, passing through the details of the footbridge supports, to the interior lighting of the roof and fence, the whole intervention is characterized by the respect for historical heritage.
Cliente Client
Cartagena Puerto de Culturas
Arquitectos Architects
Atxu Amann, Andrés Cánovas, Nicolás Maruri
Colaboradores Collaborators
Nacho Álvarez-Monteserín, Javier Gutiérrez, Ana López, Pablo Sigüenza, José López; Rafael Checa (aparejador quantity surveyor)
Consultores Consultants
José Cerezo Ingeniería (estructura structure); Condiciones Internas (instalaciones services)
Contratista Contractor
TMR
Fotos Photos
David Frutos