Visitor's Center in a 16th century Fortress, Peruggia
Italo Rota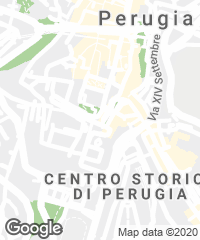 The center of Peruggia rises above an amalgam of built remains that date back to the first settlers of Umbria. The Etruscans and Romans also left their trace in this conglomerate of stone that bears witness to a history characterized by conflict. Rocca Paolina was the name of a fortified palace built by Pope Paul III – Alexander Farnesio – in the area inhabited by the most important families of the medieval city. The construction work, which was started in 1540 by Antonio da Sangallo – who later on would abandon it – symbolized the submission to the Vatican's authority of a community that shortly before had risen up against its power, and that would be stripped of its privileges and autonomy in reprisal. Once harmony was restored, the fortress remained as a guarantor of order until the 19th century, when it was demolished to give way to the modern city.
Reopening Via Bagliona – the main route of access to Peruggia which was closed by the pope to proclaim the final surrender of the rebels – is a symbolic event with goes beyond the mere acknowledgment of the importance of the archaeological remains. Around 1930, the authorities showed the first signs of interest in recovering the ruins on the site, an interest that would consolidate fifty years later with the reopening of Via Bagliona, an intervention whose priority was to organize the flow of tourists – one of the problems that the city still suffers – rather than the historical prospecting. Rescuing these underground spaces has allowed to bring the medieval Peruggia to light, giving shape to an organic network of pedestrian paths that crosses the city connecting the upper and lower areas through escalators that also service an underground parking lot.
The project also creates an office for tourist information with adjacent exhibition spaces, it explores the complexity of the medieval city and the ambiguity of a public space that has now become an interior one, revealing a landscape of evolutionary faults and slides in this artificial orography. The refurbished area is endowed with a theatrical appearance thanks to the insertion in its itinerary of parts of the medieval houses that have been recovered, to the massive presence of their pavings and walls, and to the dreamlike flow of these half-lit passages. This scenographic staging is dramatized by the various degrees of transparency and opacity, the lights of different color and intensity and the suspended elements.
Cliente Client
Comune di Peruggia
Arquitecto Architect
Italo Rota
Colaboradores Collaborators
A. Baldessari, F. Fornasari, A. Pedretti, M. Ferroni, P. Montanari, F. Grassi, S. Choi; A. Abozzo (estructura structure)
Fotos Photos
Guia Sambonet