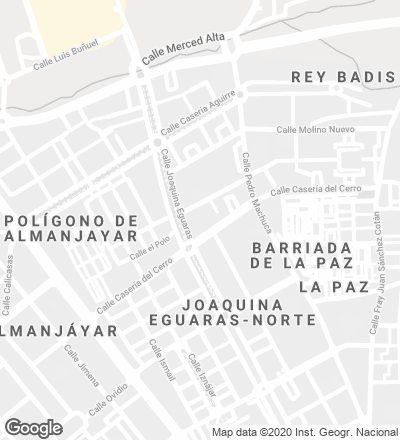 The building of La Inmaculada Teacher  Training School, which belongs to theArchbishopry of Granada, is located in the residential neighborhood of Almanjáyar, the city's area of expansion through the north and that is characterized by the predominance of high-rise collective housing.
Towards the main access the building reduces its scale to obtain a more domestic appearance. For this reason it is compressed reducing its height by one floor, and then recovering the three stories in the courtyard. 
In this place, with no quality urban facilities and in which there was no established public activity, this buildings gives the opportunity of generating city. The project delves into different formulas for its urban insertion, like the permeability of the spaces that complement the teaching program, and which are located at level with the city with apparently no boundary imposed between the urban space around the building and the collective space on ground level. The more public uses of the building program are placed on this level, organized around a central courtyard.
The access lobby establishes a visual relationship with the street through the entrance porch, reflecting the great variety of activities in the building: library, exhibition hall, church, cafeteria, auditorium and sports center. All these spaces, with the exception of the library, have a direct access of their own which can be used independently from the building's main one.
The building is structured in five levels, two of them below grade. The communal and administration areas  are located on ground floor, while on top the lecture rooms configure the overall image. 
The level with the accesses is a threshold space compressed by the suspended mass of the upper floors, so the ceramic enclosures of the classrooms hover over the city. This arrangement is translated into a structural solution consisting of a lattice beam that contains the two top floors of the classroom and departments, and that rests on two lines of columns spanning a large void. Underneath are the communal areas, in continuity with exterior areas of landscaped terraces protected by a bold cantilever.
The classrooms are staggered, separated from one another to achieve a diffused illumination of the interior, which on the outside takes on a modular and expressive appearance with a warm, ceramic cladding.
The search for the formal unity of the whole goes beyond the modular planning that derives from the structure. The aim was to achieve a close, almost familiar architecture, both in the composition of the spaces and in the treatment of light and of the texture that its ceramic skin confers. In the upper levels, the ceramic shell is rhythmically sectioned by fragmenting the academic area in patterned classrooms whose layout ensures that sunlight will come in through the side via courtyards. These courtyards control light strictly as a sort of diaphragm with asymmetrical cantilevers of the roof and facade that prevent direct sunning in the northwest and southwest facades. 
Cliente Client
Arzobispado de Granada
Arquitecto Architect
Ramón Fernández-Alonso Borrajo
Colaboradores Collaborators
José Moya Enriquez; Miguel Ángel Jiménez Dengra, Rafael Palma Moyano, Francisco Torres Ramirez (arquitectos técnicos quantity surveyors)
Consultores Consultants
Sergio García Pedrajas (instalaciones mechanical engineering); Anton Amann (iluminación lighting); Ignacio Valverde Espinosa (geotecnia geotechnical studies)
Contratista Contractor
Construcciones Calderón
Fotos Photos
Jesús Granada