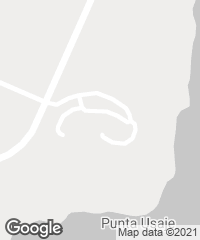 Jameos del Agua is a natural space and a cutural center conceived by the artist and architect César Manrique, and is part of the network of Art, Culture and Tourism Centers (CATC) of Lanzarote. The intervention, developed in phases over more than twenty years, is situated along the section of the lava tube of La Corona that runs closest to the sea, and is made up of a subterranean garden and a building complex known as Casa de Los Volcanes.
The subterranean garden is a total work of art, a territorial readymade that foreshadows the land art movement and anticipates the concept of public art. The Casa de Los Volcanes was initially designed to harbor a hotel, but this idea was set aside during its construction. As a result, part of the complex remained unfinished and unused. Since then, Jameos del Agua is an open project with latent spaces concealed from visitors, waiting to be put to new use.
The project makes use of micro-demolitions in the interior spaces originally intended for use as apartments, thus opening them up for inclusion as exhibition spaces and adding an extra layer to the building's dynamics. The project retains the white volumes that characterize the external appearance of the Casa de Los Volcanes and preserves the structure's footprint and spatial organization consisting of voids alternating with filled spaces, as defined by the sequences of patios and terraces between the blocks; it proposes moving from the transversal, atomized reality of the terraced apartment modules to a linear, longitudinal reality that integrates the exhibition space into the complex's single, continuous route, while at the same time offering visitor-friendly connection points between the building's different levels.
The New Casa de Los Volcanes Exhibition Space is formed by a continuous linear route that can be seen as a light tube. Through a series of skylights, this space appears as an abstraction of the shade/illuminated space, roof/sky, tube/jameo sequence that characterizes the spatial experience of the volcanic tube of Jameos del Agua.
By incorporating the unfinished spaces into the overall discourse of the Jameos del Agua complex, this new intervention offers a re-interpretation and completion of this major work of environmental art. It seeks to overcome the current dichotomy of the Casa de Los Volcanes versus the subterranean garden, of landscape versus architecture, to present the entire Jameos del Agua complex as a single unit of architecture as landscape.
Cliente Client
EPEL, Centros de Arte, Cultura y Turismo Lanzarote
Arquitectos Architects
GPY Arquitectos. Juan Antonio González Pérez, Urbano Yanes, Constanze Sixt, Andrzej Gwizdala (equipo de proyecto project team)
Colaboradores Collaborators
Theo Cozzi, Silvia Fernández del Rosario, Martin Espín Ortiz, Laura Mercedes González Santana, Elena Hernández Cejas; José Domingo Bethencourt Gallardo (arquitecto técnico quantity surveyor)
Consultores Consultants
ReVRG Arquitectos (estructura structure); GPI Ingenieros (ingeniería engineers)
Contratista Contractor
Constructora San José S.A.
Fotos Photos
Roland Halbe