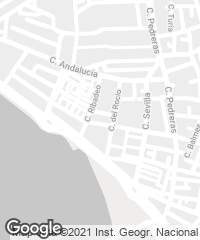 On the southern tip of the Iberian Peninsula, just a block away from the bay of Algeciras, a residual piece of land long used as a parking lot was chosen as the site of a new social housing development. Diagonally facing a school playground, the operation opted for a volume of clear-cut contours that would affirm its autonomy amid the surrounding residential complexes, all of a looser, more open-block nature. Since the lot reached too far back for a single bay to be feasible, the project decided on a type derived from the H-block, where two narrow and parallel tablets are joined by catwalks succeeding each other at the rhythm of the communication cores.
Parting from a building type derived from the H-block, these dwellings open up the service zone to the longitudinal patio, reserving the facade for the living spaces, grouped behind a window row that blurs their differences.
Keeping within the limits imposed by the budget and municipal guidelines, the apartment block - compact, closed and clear-edged - allies itself with the strong south light to eclipse the anonymous presence of its neighbors. The way the street Ribadeo breaks as it approaches the sea inspired the setback of the west side, which gives the person on the street a view of the longitudinal void that acts as the building's spinal column. Like drawers jutting out from the alignment of the facade, the entrances keep the parallel passage line at an adequate distance from the ground-level units, ensuring them privacy while enhancing the play of lights and shadows that characterizes the entire project. These entries correspond rhythmically with the three vertical communication cores - of stairwells and elevator shafts - that are situated along the north bay, which structures the whole block. Addressing the street-patio duality more than orientation factors, the 43 dwellings arrange their living rooms and bedrooms along the perimeter of the building, pushing the bathrooms and kitchens inward. Some additional courtyards adjacent to the inner void bring natural light into the service zones, the corridors and the foyer, and also provide the crossed ventilation that is a must in any construction exposed to a climate of intense heat.

In their composition, the elevations support the prism's emphatic lines. On both the street and the courtyard sides, a row of horizontal windows blurs the details of the domestic program while hiding the size differences between apartments. To avoid indiscreet views between units, the courtyard windows are shielded by slats made of dark gray concrete, the same material used for the sills and lintels. White plaster and aluminum frames offset the monotony, allowing sun and shade to dominate this inhabitable sculpture.
Cliente Client
Junta de Andalucía
Arquitecto Architect
Rafael Otero
Colaborador Collaborator
Francisco Alcoba (aparejador quantity surveyor)
Contratista Contractor
Perfesan
Fotos Photos
Hisao Suzuki