Bibliotheca Alexandrina, Alejandría
Snøhetta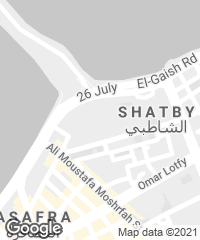 The bibliotheca Alexandrina is built on the historic harbor of Alexandria, the city founded by Alexander the Great some 2,300 years ago. The project honors the memory of the library of the ancient city, lost to civilization centuries ago. Characterized by its tilting form, the circular building spans 160 meters in diameter and reaches up to 32 meters in height. The 11-story library can contain up to four million volumes of books, and can be expanded up to eight million by the use of compact storage. Stepped over seven terraces, the building's design ensures that all book storage avoids exposure to light that is harmful to books and manuscripts. The reading room, lit by north-facing skylights, is terraced in accordance with the consultation sections, an organization that dramatically reduces book-retrieval time compared to traditional library planning. In addition to the library facilities, the building also contains other cultural and educational functions including a planetarium, several museums, a school for information science, and conservation facilities, which together constitute a complex that received the prestigious Aga Khan Award in 2004.
Client
Arab Republic of Egypt. UNESCO
Architects
Architect, Landscape & Interior: Snøhetta.
Hamza Associates
Collaborators
SMEP: Hamza Associates
Contractor
Balfour Beatty. Arab Contractors
Surface area
80.000 m²
Photos
Thomas Müller, Gerald Zugmann, James Willis, Willy Rundmo, Nils Petter Dale