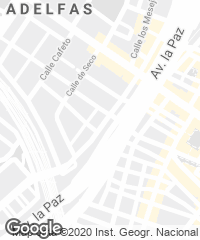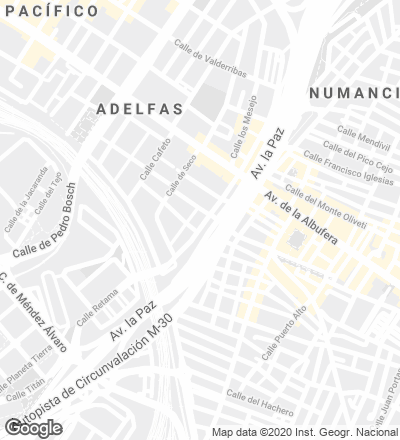 Located in the Madrid neighborhood of Adelfas, in the southern edge of the Retiro district, close to the stations of Atocha and Méndez Álvaro, the construction of the project was commissioned after a competition called by Acciona Inmobiliaria. The residential development includes 98 apartments, initially for rent.
The southeast block is lined up with the M-30 ringroad; the northwest one, narrower, runs parallel and rotates as much as the boulevard allows to let natural light enter the space between the two volumes. 
The building is a completely abstract piece when seen from the outside, lined up as it is with the M-30 ringroad. The housing block rises as an urban border – next to the ringroad and the A3 highway –, in an area where the surrounding traffic is very intense. This was one of the key factors that determined the decision to design an exact, bold volume; an elemental white object that, blurring all details, would not alter the instant, fast, and fleeting image one grasps of the building. The facades are wrapped in white corrugated metallic sheet, and are enhanced, as planned, by the nuances that the rich and clear light of Madrid gives when reflected on the city's buildings.
Five run-through corridors provide access to all the apartments; the northwest block rises emphasizing the openness of the central space and creating a covered  porch through which to enter each block. 
On the basis that both the housing units and way they are arranged into groups demand a careful attention to the domestic scale, the project addresses this significant but attractive contradiction by exploring and modifying the area's typical closed block with interior courtyards. Here the apartments are distributed in two buildings set at different alignments, separated by an interior street or 'crack' that brings in sunlight and ventilation, improving the passive conditions in all the dwellings. This efficient crack also becomes the shared public space of access and for interaction among residents, as can be seen in the building's section. When accessing from the interior public plaza, protected from traffic, neighbors pass under the narrow block and reach the communal garden. The use of wood in this space guarantees the domestic and friendly character the scale asks for, creating a contrast with the industrial and standard finishes of the exterior facades.
Designed to reduce energy needs to a minimum, the project offers a pioneering approach to issues like water management, energy of materials, and carbon dioxide emissions derived from transport on site. The new housing ensemble also helps to improve biodiversity in the area by analyzing, studying, and planting new vegetation.

Cliente Client
Acciona Inmobiliaria
Arquitectos Architects
César Ruiz-Larrea Cangas, Antonio Gómez Gutiérrez, Gorka Álvarez Ugalde
Colaboradores Collaborators
Paula Ferruz González, Margarita Álvarez Blanco, Juan Hernández Torres, Javier de Andrés de Vicente, Javier Alejo Ayllón
Consultores Consultants
Miguel Díaz Martín (asesor BREEAM BREEAM consultant); Julio Pedro González / ATC (arquitecto técnico quantity surveyor); LAC Consultores de Estructuras (estructura structure); Plenum Ingenieros (instalaciones mechanical engineering)
Contratista Contractor
Acciona Construcción
Superficie Floor area
11.535 m²
Presupuesto Budget
7.599.490 € (PEM)
Fotos Photos
Lucía Gorostegui (imágenes cedidas por Rockwool Peninsular)