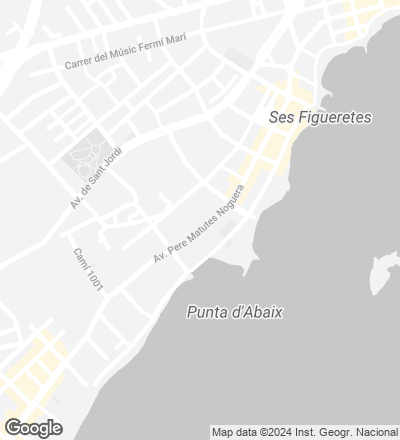 Promoted by the Balearic Housing Institute (IBAVI), this public-housing block is located at Platja d'en Bossa, south of the city of Ibiza. Designed by estudi08014 – Adrià Guardiet and Sandra Torres – the apartment building pursues a certain degree of autonomy from its immediate urban context, which is mainly given over to the exploitation of mass tourism.
With a built area of 2,596 square meters, the freestanding four-story volume takes up almost all of the buildable area of the 43x43-meter plot. The site is about 5 meters above sea level and is rotated 45º with respect to the cardinal axes. The layout around four courtyards allows all rooms, including bedrooms, to look out in two directions.
The loadbearing walls form a mesh of spaces of more or less square proportions, establishing a correspondence between the scheme's structural and spatial systems.. Two concentric strips – the outer one with the living rooms, bedrooms, and bathrooms, and the inner one with the kitchens and the four patios – surround the stair core that leads to the eight dwellings on each floor.
The project complies with a series of sustainability and energy-efficiency indicators to significantly improve the values set by current regulations. To this end it uses materials like ceramic manufactured in kilns with biomass, wood, cotton recycled from the facade insulation, and dry poseidonia for the roof insulation, reviving a tradition of local architecture. On the other hand it applies passive strategies of design, such as an envelope of high thermal inertia that involves thermoclay walls filled with dug-out earth, cross ventilation, and the thermal regulation of the interiors by covering the courtyards with a system of glazed enclosures and solar protection elements.In addition, the selection of plants needing little water mitigates the heat island effect. They are irrigated through a system of collecting and harnessing rainwater.