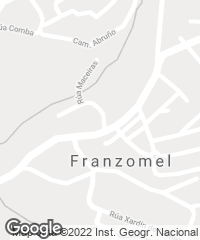 Located some ten kilometers east of A Coruña, Oleiros has grown significantly over the last twenty years, and what was once a rural municipality has become a residential one where many of the families with the highest incomes in the area live, so it has become one of the richest towns in Galicia. Its proximity to the capital of the province, the urban policies developed since the 1980s, the landscape environment – with beautiful beaches, forests, parks, and high quality natural spaces –, in addition to its good communications by highway are among the reasons for this boom.
Los Manzanos is a camping site close to the urban center of Oleiros, the project consists in the construction of three bungalows to increase the accommodation units in this establishment, which has been open for many years. The existing trees and the distance from the nearby river determine the position of the bungalows. From the beginning the accesses were to be independent, creating an environment of its own for each bungalow, without interfering with the others. The design also included a path of access crossing them, covering that point to create a central glass-enclosed space from which guests can enjoy and establish a relationship between the interior and exterior spaces at either side of the bungalows.
The project brief established by the owner-developer was the typical of a temporary vacation home, with living-dining-bedroom, master bedroom, bathroom and kitchen, and all these elements are included in a single rectangular volume, elevated from the ground and articulated at either side of a central axis. From this axis emerge two catwalks that invite to go inside, create a social area, and span the difference in height between the exterior and the interior and the access. This central space, in which interior and exterior are blurred, is covered by a skylight traversed by wood beams that filter sunlight, containing the circulations and the kitchen furniture. At either side of this space, the different rooms are articulated in two pieces. In the first, facing southwest, is the living-dining-bedroom, which opens up completely to the previous space with sliding doors that let light in and establish a connection with the kitchen. It also receives daylight through a large window that occupies the largest part of the facade. The other volume contains the master bedroom and the bathroom, which face east.
The three bungalows are independent, and the path of access goes through each one of the units, creating a central space, both interior and exterior, that organizes the different parts of the program.
The central space, covered by a large skylight traversed by wood beams that filter sunlight, harbors the kitchen and organizes the circulation paths. The remaining rooms are placed at either side.  

Cliente Client
Camping Los Manzanos
Arquitectos Architects
Creus e Carrasco
Colaboradores Collaborators
Sara Escudero, Alicia Balbás, Elena Junquera
Consultores Consultants
O Regueiro S.L. (carpintería carpentry); Félix Suárez Riestra (estructura structure); Isabel Francos Anllo (instalaciones mechanical engineering); Juan Leis (director de ejecución site management)
Contratista Contractor
Obras Ramón Cotelo
Superficie construida Floor area
40 m²
Presupuesto Budget
48.890 € (PEC)
Fotos Photos
Héctor Santos-Díez