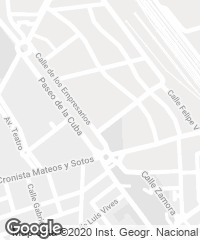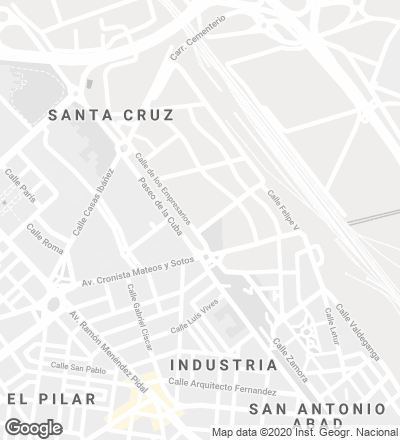 The confederation of Employers of Albacete (FEDA) is an association that represents the business network in the region, with approximately 15,000 members. In 2006 plans were drawn to bring together its different facilities, scattered throughout the city, in one single volume. Once the winning proposal was chosen, however, the budget was significantly reduced, leading to a scheme that was different from the original one, intended to become a 'moderate landmark'.
The first step was to redefine the concept of architectural landmark, exploiting the possibilities of working with the perception of the buildings, even if their scale and geometry are neither conspicuous nor complex. Hence, this project has been conceived as an architecture of blurred boundaries, wrapping the volume with a veil capable of diffusing its contours and making it change with the weather. The simplicity and boldness of the volume is balanced with the hazy effect produced by the plastic exterior skin. To achieve this effect it was essential for the substructure that supports the exterior skin to be invisible. The research carried out looked for an optimum technical solution to guarantee a volatile and delicate appearance, which was finally achieved using polymethylmethacrylate (PMMA), a high performance plastic which is highly durable, demands low maintenance, has a reduced weight and expansion index, and is thus an optimum material to achieve a lightweight fixture system. 
Después de superar las restricciones del nuevo contexto económico, la sede de los empresarios de Albacete se levanta como un volumen de aspecto cambiante gracias a la piel plástica perforada que lo envuelve.  
After overcoming the restrictions of the new economic context, the headquarters of Albacete's Confederation of Employers rises as a volume of changing appearance thanks to its perforated plastic skin. 
The workers and users of the building participated in the design process by providing a map of needs, which allowed establishing a map of requirements and its spatial expression. Instead of a system of cubicles, a more open-plan arrangement was chosen, one able to express the horizontal character of the organizationl hierarchy. The access space extends from side to side of the floor and reaches the rear facade and an outdoor cafeteria space. This large space is the first part of the void that internally articulates the whole volume and has a direct relationship at all times with the exterior, either through large windows or through the top skylight. This space gives access to all the floors, and houses the more public areas such as information counters, exhibition spaces, waiting and meeting areas. The open workspaces are neutral so that their users can colonize them with their belongings and make them their own.
Cliente Client
Confederación de Empresarios de Albacete (FEDA)
Arquitectos Architects
Jesús Olivares Casado, Miguel Rodenas Mussons
Colaboradores Collaborators
Mar Melgarejo, Ayara Mendo, Rubén Perea (concurso competition); Oscar Carpio, Juan Sánchez, José Verdú (redacción proyecto project design); Fran Colom, José Noguera, Soledad Rodríguez, Alberto Valera (diseño gráfico graphic design)
Consultores Consultants
Valentín Moreno (estructura structure); Juan F. García (instalaciones mechanical engineering)
Contratista Contractor
GCC
Fotos Photos
David Frutos