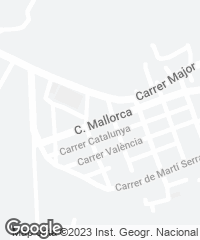 In Pórtol, a rural town under the jurisdiction of the municipality of Marrachi, on the island of Majorca, stands this residence for elderly people. A compact building with a rectangular floorplan is organized around four garden courtyards that ensure natural light and cross ventilation. Executed in a simple and discreet construction language, it is defined by a facade whose rhythm is a repetition of vertical openings. The building's program is distributed in four functional blocks: three for residential modules, areas for specific services, and management and administration; and the fourth, in the half-basement, for general services and staff. The Marés stone used in the building is local, from nearby quarries, and so is the wood.
The intervention prioritizes passive strategies over active ones and reduces energy needs, making the building highly efficient. The motorized solar protectors are activated when they detect excessive sun or wind. The arrangement of pergolas decked with deciduous plants protects the outdoor terraces in summer and brings in the sun in winter, turning the intermediate spaces into energy trappers.
This work has been distinguished with the CSCAE Architecture Award for 2021, in the Habitat section.
Son Caulelles Geriatric Home in Pórtol (Mallorca)
Cliente Client
Consorcio de Recursos Sociosanitarios de les Illes Balears
Arquitectos Architects
Santi Vives Sanfeliu, Tomás Montis Sastre, Adrià Clapés
Colaboradores Collaborators
Francesco Colinucci; Sofía García; Leni Marcon; Alejandro Mora Martín; Juan Bonilla Morell; Dimark (estructura structure); IDOM (ingeniería técnica engineering)
Consultores Contractor
Obras y Construcciones Tomeu Rosselló - Tolo Rosselló (jefe de obra site manager); Youssef Fardassi (oficial official); Homad Fardassi, Brahim Rachedi (peones laborers); Biel literas/PMS (instalaciones installations); Tejar Can Benito (cerámica ceramics); Carpintería Simó Tortella (carpinterías carpentry)
Fotografía Photographs
Alejandro Gómez Vives