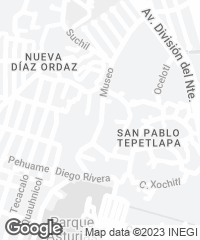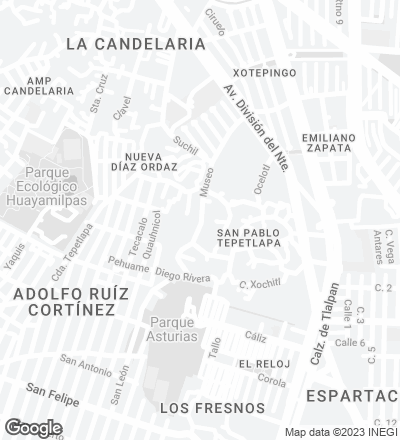 The story of the Anahuacalli Museum begins in the early 1940s, when the painter Diego Rivera thought of erecting a depot for his collection of pre-Hispanic pieces that would be an artwork in and of itself, habitable and capable of generating a continuity between modern art and the pre-Columbian aesthetic. He and Frida Kahlo acquired land in El Pedregal de San Ángel, close to the volcano Xitle in Mexico City, to build a farm. Later Rivera envisioned a city for the arts: the Anahuacalli Museum. A work of the architect Juan O'Gorman, it opened to the public in 1964, seven years after Rivera's death.
The extension and renovation carried out by Mauricio Rocha blends into the ecological reserve formed by layers of lava, and takes the composition of Mesoamerican cities as a reference. Besides reorganizing uses, the project gives the institution further exhibition space and also expands the library, and workshops are added. Combining concrete and basalt, the new volumes are a contemporary reinterpretation of the existing buildings, respecting their height and engaging in dialogue with the volcanic landscape in a dance with the rough topography. The new constructions are tucked into their base, minimizing their visual impact. Lattices regulate views of the surroundings and unify the complex.
Obra Work
Remodelación, ampliación y construcción de espacios Museo Diego Rivera Anahuacalli (Ciudad de México)
Remodeling, expansion and construction of spaces Museo Diego Rivera Anahuacalli (Mexico's City)
Cliente Client
Museo Diego Rivera Anahuacalli, Fideicomiso a los Museos Diego Rivera y Frida Kahlo, Banco de México
Arquitecto Architect
Mauricio Rocha
Colaboradores Collaborators
Adrián Iturriaga, Elisa Murillo, Israel Espin, Juan Carlos Montiel, David Noble, Francisco Ortiz
Consultores Consultants
Arquitech Constructora, S.A. de C.V. (construcción construction); Direcontec S.A. de C.V. (supervisión supervision); Grupo SAI S.A. de C.V. (ingeniería Estructural structural engineering); Enrique Zenón (instalaciones hidrosánitarias plumbing installations); Estructuras Digitales de México (seguridad y telecomunicaciones security and telecommunications); Grupo CYVSA (control climático climate control); Deneb & Polux (diseño de Iluminación illumination design); Esterlina Campuzano - NODO Taller (diseño de interiores y mobiliario interior and furniture design).
Superficie Area
4,765 m² (proyecto project) / 2,120 m² (exterior exterior)
Fotos Photos
Rafael Gamo, Onnis Luque, Sandra Pereznieto