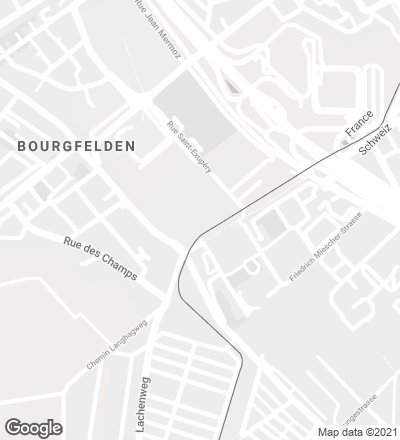 Set on the Swiss-French border, straddling Basel and the neighboring town of St. Louis, the Pfaffenholz Sports Centre is constructed proof of the good relations between neighbors that do not appear on the precise lines drawn on the maps. Built on French soil but commissioned by the Basel Bürgerspital, the unit's autonomy colonizes a disperse environment of apartment blocks, single family dwellings and long rows of buildings with diverse uses. The facilities provide the citizens of both nations with a sports pavilion, an athletics track, two football fields and a jogging circuit, with common access from the Swiss side of the complex.
The pavilion dominates the organization of the buildings, and its two modules epitomise the bilateral cooperation that has made the project possible. The larger volume, divisible into three tracks and a gymnasium, has a narrower unit laid out alongside to house the changing rooms, the body building room and the canteen. The identity of each unit is underscored by its material definition. The changing room body, for which the architects toyed with an envelope based on gabions filled with loose stone, finally used in the Dominus winery, is enclosed in prefab concrete panels, while a skin of dark green glass, attached at intervals to metal consoles, covers both the open spans and the solids on the building's facade. A photograph of the particleboard that insulates the pavilion is screenprinted onto the curtain wall, providing this taut surface with a texture like the meadows in the adjacent sports areas. The changing room unit has stains reminiscent of boulders printed onto the underside of the eaves, the long elevation and the entrance square. This was the first use of this photographic printing technique on the outer face of concrete, and it would later be applied to the exterior of the Eberswalde library.
Inside, the main playing area is three metres below ground level, surrounded by a gallery with no architectural barriers to impede access from the entrance. This zone is used as additional seating for the most popular events. Like an open concrete basket, a succession of inclined pillars separates this corridor from the indoor playing areas, producing the concentrated environment required for competition. The window running the length of the north-eastern elevation permits views of the athletics events at the same time as those of the indoor competitions, and also serves to reveal the gallery pillars to those outside.[+][+]
Client
Bürgerspital, Basel
Herzog & de Meuron Project Team
Partners: Jacques Herzog, Pierre de Meuron.
Project Team: Christine Binswanger, Erich Diserens (Project Architects). Michael Mettler, Florence Ouuvray, Kasper Storch.
Planning
Architect Planning: Herzog & de Meuron; Landscape Design: W. Hunziker, Kessler & Greder AG; Construction Management: Pro-Plan-Ing. AG; Electrical Engineering: K. Schweizer AG; HVAC Engineering: W. Waldhauser; Plumbing Engineering: Bogenschütz AG; Structural Engineering: Ingenieurbüro Andreas Zachmann.
Consulting
Building Physics: Gysin & Ehrsam AG; Facade Engineering (glass facade): Schmidlin AG.
Photos
Margherita Spiluttini; Hisao Suzuki