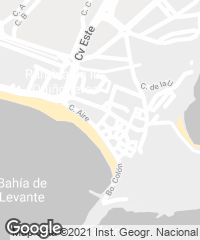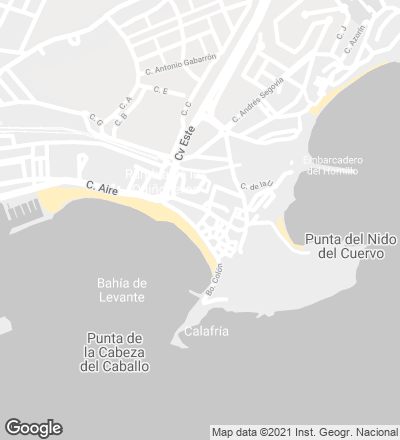 This new building, which goes up in Águilas, a town in southern Murcia that is very close to Andalusia, is one of the last fruits of the decade of prosperity that Spain experienced prior to the financial crisis. It rests on the ground as if it were a white meteorite, landed right on one of the two beaches of the municipality. The curve of these beaches and the images of white sails beaten by the wind seem to have inspired the concave form of two of the building's facades, whereas the other two delimiting walls, facing the urban fabric, address it with rectilinear sobriety. The building is therefore receptive to the diverse nature of its context, showing its expressive side towards the sand and the horizon, and its hermetic one towards the city.

The new building has a strategic position on the bay of Levante, facing the sea and the city and marking the seafront's end, where it rises as a white and gleaming monolith shining under the Mediterranean sun.  
Aiming to complement the sun and beach tourism so typical of the Spanish Mediterranean Coast, the town of Águilas decided to raise this facility to attract new visitors. The program of the new building therefore includes an auditorium with capacity for 780 spectators, equipped with all the technical elements necessary to host performances and international conferences and symposiums.It also has a multipurpose hall, seating 350 spectators, which can be adapted to smaller audiences depending on the needs. Lastly, a smaller hall for 150 spectators and the central lobby open up to impressive sea views that make their way inside through a large window, providing space for exhibitions, performances and other events.
From afar, the building melds into the facade of Águilas respecting its chromatism. Located in the bay of Levante, on an elongated plot measuring almost 9,000 square meters, the built area is slightly over 2,000 square meters, rising 25.50 meters high. Aside from the construction of the building, the project also includes the redevelopment of the plot, which marks the end of the seafront promenade. To give the place a unique and public character, the stately granite-clad steps face the sea, and become bleachers for outdoor performances.
The construction of the new building is rounded off with granite-clad  steps that create a space for gathering facing  the sea, and which is suitable for all different kinds of activities   and performances. 
The smooth white walls and the openings give the building a massive appearance that actually conceals a ventilated facade with several layers, that last of which is a plastered panel. As in the exteriors, inside the building a reduced palette of materials has been used.
La claridad de los espacios de circulación y estancia se ve reforzada por la luz natural que los inunda a través de los grandes ventanales, y contrasta de modo muy intenso con los acabados oscuros del auditorio. 
Cliente Client
Ayuntamiento de Águilas
Arquitectos Architects
Fabrizio Barozzi, Alberto Veiga
Colaboradores Collaborators
Paulo Lopes, Tanja Oppowa, Antonio Pinto, Agnieszka Samsel, Antonis Vourexakis, Luca Colomban, Brendan Lynch
Consultores Consultants
ARDEVOLS/Roser Salvador Segura (arquitecto técnico y restauración quantity surveyor and restoration); BOMA/Diego Martín (estructuras structure); GRUPO JG/Jaume Cera (instalaciones mechanical engineering); Higini Arau (acústica acoustics); OTTO/Tom Seix (escenotecnia stagecraft); STO/Miguel Mateos, Manuel Martino; ATYRSA/Fernando Muñiz, Guillermo Muñiz (fachada facade)
Contratista Contractor
Acciona Infraestructuras
Fotos Photos
Jordi Bernadó, Julien Lanoo, Mariela Apollonio