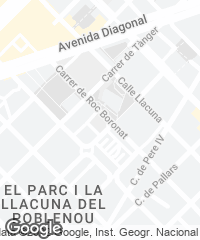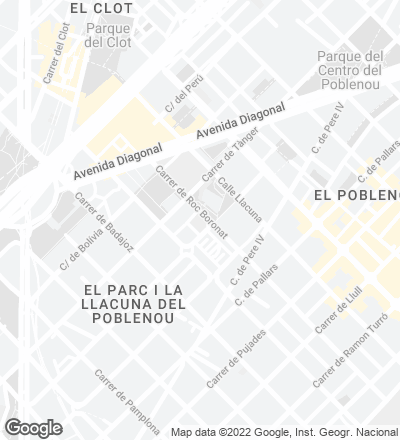 Conceived as an industrial warehouse of the digital era, the MediaTIC goes up as an icon that reconciles the industrial past of the 22@ district of Barcelona and its technological future. Drawing inspiration from the electronic world, and built with the aid of innovative CAD/CAM processes, the building tries not only to become a space of reference on a European level in the field of information and communication technologies (TIC), but also a new emblem for the city. Its interior houses more than 20,000 square meters that are space for meeting and interaction among the companies and institutions of the information technology and audiovisual fields.
The main metallic structure is formed by four rigid braced frames placed at 14.5 meter intervals, covering a span of 40 meters thanks to a metallic latticework that is two levels deep resting on columns formed by a double layer of metallic profiles separated by 3.5 meters, with diagonal trusses to provide rigidity and absorb wind loads. The six lower floors hang from these frames, held by cylindric braces. The slabs, measuring 12 centimeters in thickness, built with interlocking sheet and concrete slab, rest on secondary beams, spanning five meters, resting for their part on the main beams that span the distance between frames and are attached to each one of the braces.
The building seeks energy self-sufficiency, for which it has an ecological roof with photovoltaic panels that can produce 29.000kWh yearly, saving up to 18.8 tons of CO2 emissions to the atmosphere. In the same way, its interior has sensors to control light and temperature depending on occupation.
Aside from these energy-saving systems, the most representative part of this effort are the facades, studied independently according to their orientation. The more exposed ones are clad in ETFE cushions with two different patents: the 'cloud' system in those of the southwest facade, filled with a combination of air and nitrogen that uses the density of the air as sun filter; and, in the southeast ones, the 'diaphragm' system, with three ETFE layers with constant pressure and variable air circulation between chambers. The exterior layer is transparent, whereas the middle and inner one have a pattern that thanks to a pneumatic system forms an opaque layer. The cushions are antiadherent, so they do not demand cleaning maintenance, and they do not lose elasticity, transparency and hardness with time.
Cliente Client
Consorcio de la Zona Franca, Ayuntamiento de Barcelona, 22
Arquitecto Architect
Cloud 9, Enric Ruiz-Geli (principal principal architect); Javier Pérez Contonente, Francesco Ducato, Felix Fassbinder, Max Zinnecker (proyecto project)
Colaboradores Collaborators
Verónica Mansilla, Patricio Levy, Daniel Corsi, Rubén Alonso, Beatriz Mínguez, Cristina Guadalupe, André Macedo, Hale YoungBlood, Edouard Cabay, Mireia Pallarès, Marta Arranz, Víctor Llanos, Marisol Verges, Federico Ortiz, Luis Borunda
Consultores Consultants
BOMA, Agustí Obiol, Alicia Huguet, Santos Valladolid (estructura structure); PGI Group, David Tusset, Daniel Orduña (instalaciones mechanical engineering); Pilar Estrada, Felipe Rojas (mediciones y presupuesto measurement and budget); Josep María Forteza, Víctor Forteza, Manoli Vila, Martí Santana, Aleix Samperiz (dirección técnica technical management); Ángel Rotea, Héctor Yuste, Juan Carlos Caballero (jefe de proyecto project manager)
Contratista Contractor
Dragados; Sacyr, S.A.U; Monvaga
Fotos Photos
Iwan Baan, Íñigo Bujedo, Luis Ros