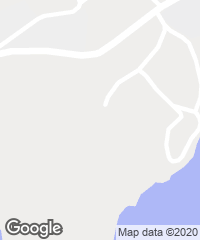 Knut Hamsun, Norway's most inventive 20th-century writer, fabricated new forms of expression in his first novel Hunger. He went on to establish a truly modern school of fiction with works like Pan, Mysteries, and Growth of the Soil. This center dedicated to Hamsun is located above the Arctic Circle near the seaside municipality of Hamarøy, not very far away from the farm where the writer grew up. The 2,700-square-meter center includes exhibition areas, a library and reading room, a café, and an auditorium equipped with the latest film projection equipment (Hamsun's writings have been particularly inspiring to filmmakers, which is evident in the more than 17 films based on his work).
The project is structured in two volumes: a tall volume that stands like a sort of watchtower, with a jagged profile and five floors above ground level; and a low-rise trapezoidal volume that accommodates the auditorium. Both configure an open space in the access presided by the solemnity of the tower, the architecture of which tries to translate the literary experience of Hamsun and his characters into spatial terms. 
A winding staircase rises in an apparently random way through the interior of the museum, the central theme of which "Building as a Body: Battleground of Invisible Forces", has driven the most unique decisions of the project. Here the wood exterior is punctuated by hidden impulses piercing through the surface: an "empty violin case" balcony has phenomenal sound properties, while a viewing balcony is like the "girl with sleeves rolled up polishing yellow panes". 
Many other aspects of the building choose to reinterpret the vernacular style as a means to blend into the impressive surrounding landscape. The stained black wood exterior skin is characteristic of the wooden stave Norse churches. On the roof garden, long grass refers to traditional Norwegian sod roofs in a modern way. The rough white-painted concrete interiors are characterized by diagonal rays of light calculated to ricochet through the section on certain days of the year. These strange, surprising, and phenomenal experiences in space, perspective, and light provide an inspiring frame for exhibitions. The white paint covering the walls favors the reflection of light, transforming the interior space of the tower.

Cliente Client
Nordland Fylkeskommune
Arquitectos Architects
Steven Holl Architects; LY Arkitekter (arquitectos asociados associated architects)
Colaboradores Collaborators
Steven Holl (jefe de diseño design architect), Noah Yaffe (asociado associate in charge), Erik Fenstad Langdalen (jefe de proyecto project architect), Francesco Bartolozzi, Ebbie Wisecarver, Gabriela Barman-Kraemer, Yoh Hanaoka, Justin Korhammer, Anna Müller, Audra Tuskes
Consultores Consultants
Guy Nordenson and Associates, Rambøll Norge (estructura structure); Ove Arup, Rambøll Norge (instalaciones mechanical engineering); L'Observatoire International, Vesa Honkonen Architects (iluminación lighting); Landskapsfabikken (paisajismo landscaping)
Fotos Photos
Iwan Baan, Christian Richters