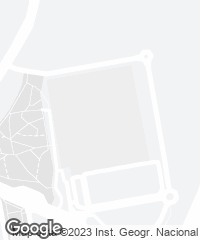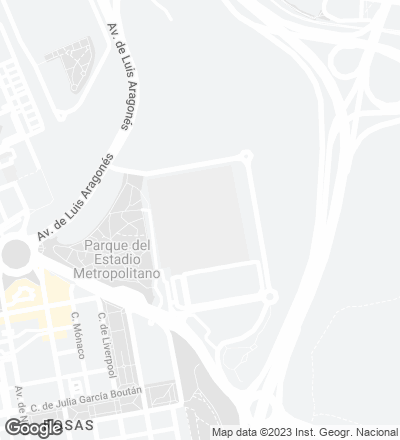 The new stadium of the Atlético de Madrid extends the old Athletics Stadium of the Community of Madrid - nicknamed 'La Peineta' -, completed in 1994 by the same architects and with capacity for 19.000 spectators, a building whose distinctive image became a landmark in the east area of Madrid.

The project to extend the venue, which had to increase its capacity up to 70,000 spectators and so transform the building into a football stadium which could receive the UEFA's highest rating, proposed a double objective: to preserve the recognizable image of the stands of the old stadium and to harmoniously combine the extension with the old stadium.
In this way, the new stands maintain the narrow horizontal voids of the initial stadium. The roof, the other regonizable element, unifies the whole and becomes the building's new image.
The new field is built lowering the height of the original pitch, bringing spectators closer to the field without altering the visibility. The stadium includes 4,000 parking spaces (1,000 inside the building and 3,000 outside).
Designed as a tensioned structure, and with approximate dimensions of 286 x 248 meters, the roof unifies and gives evenness to the two moments of the building, covering almost all of the spectators. 
The original stadium, which only had a stand on the west, is completed with three tiers of seating around the field - lower, middle, and upper. Between the second and the third stand there is perimetral row of private boxes. In the lower and middle stands, access is from the higher part of the last row, so that the field is always in sight from the waiting areas.
The main structure of the roof is composed of an exterior double compression ring of steel and an interior double traction ring and two groups of radial cables. The net thus formed is covered using tightened membranes. The light of the roof (the distance between the compression and traction rings) is approximately 57 meters. From the compression ring some cantilevers have been produced by tightened membranes that reach the outer perimeter of the old stand and are extended around the whole stadium. Its wavy shape and variable height generate a certain movement to adapt to the needs of the building. The outer gutter will be red - color associated with the Atlético de Madrid - and the visibility of this red line throughout the perimeter will be important in the final definition of the image of the stadium. The result is a light roof that protects 96% of the spectators and lies on the stands like a big blanket adapting to different situations and equipping the intervention with a unified image.
Cliente Client
Dirección General de Patrimonio del Ayuntamiento de Madrid, Club Atlético de Madrid
Arquitectos Architects
Cruz y Ortiz Arquitectos
Colaboradores Collaborators
Blanca Sánchez (responsable de proyecto project manager); Teresa Cruz (responsable de cubierta roof); Óscar Mínguez (dirección de obra site management); David de Cos (dirección de instalaciones services management); Giordano Baly (interiorismo interior design); Miguel Velasco (seguridad y salud health and safety); Sergio Mota, Fco. Javier Moreno, Pablo Ortiz, Rodrigo Ruiz
Consultores Consultants
MC2, Schlaich Bergermann und Partner (estructuras structural engineering); JG ingenieros (ingeniería de instalaciones services engineering); Cruz y Ortiz (dirección de obra, interiorismo site management, interior design); Análisis de la Edificación y Construcción (control de obra site supervision); Cemosa (seguridad y salud health and safety); Cruz y Ortiz Arquitectos, Prointec (urbanización urban planning); Queipo Maquetas; (maquetas models); Fotowork (fotos maquetas model photos)
Contratista Contractor
FCC
Superficie Floor area
194.640 m²
Presupuesto Budget
134.600 € (edificio sin cubierta building), 59.300 € (cubierta roof)
Fotos Photos
Luís Asín; Ballesteros; FCC; José Antonio García/Unidad Editorial; Pedro Pegenaute