Óscar Domínguez Cultural Center, Santa Cruz de Tenerife (project stage)
Herzog & de Meuron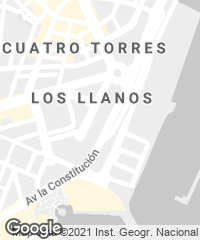 The Centro Cultural will become a new and lively place for people of all generations and with various interests. In order to achieve that, the architectural concept promotes that the different activities and spaces of the Center interfuse and interflow. Access to the Center will be possible from all sides. A new public path will cut diagonally through the building complex, linking the top of the General Serrador Bridge with the shore of the Barranco de Santos.
A new and unusual triangular space, open and accessible for everyone, will configure a new public Plaza, which could be named 'Óscar Domínguez Plaza', and whose main quality will be to lead people into the building complex. The lobby is conceived as a spatial continuation of this Plaza. It generously arranges the Museum Café, the Museum Shop and the Ticket counters. Beyond these counters a very large spiral stair connects to the upper as well as to the lower museum level. The upper level has skylit galleries in various sizes adapting to the requirements of the Óscar Domínguez Collection; the lower level displays a large surface that can be subdivided to match the needs of temporary exhibitions.
On their way across the plaza visitors will stumble on the light filled spaces of the Biblioteca Insular. The public plaza literally cuts through the reading room, they are connected with large glass screens, built with different types of glass: transparent, translucent and printed, that will regulate light intensity, openness and intimacy of the reading areas providing the best possible conditions for the readers. The light filled volume of the Biblioteca Insular will animate the nocturnal skyline along the Barranco de Santos.
The building typology for the Centro Cultural is based on courtyards, elongated spaces between the different wings of the building complex, which will be planted with typical species of the island. The courtyards are important in many ways, they will provide daylight, views and orientation for visitors and users of the museum and the library.
All different activities and functions of the Centro will be assembled under one continuous roof structure. This is why the courtyards do not appear anymore like embraced exterior spaces but rather like interior spaces left open. The new Cultural Center is not only a place of encounter for people but also a place of intersection for the landscape of the contemporary city, the old city with its skyline along the barranco and the archaic topography of the barranco itself.[+][+][+]
Cliente Client
Cabildo Insular de Tenerife
Arquitectos Architects
Jacques Herzog, Pierre de Meuron, Astrid Peissard
Colaboradores Collaborators
V. Gutiérrez Herreros (arquitecto asociado associate architect), B. Berec, S. Campos Neves, S. Dambacher, D. Garay, A. Inacio, P. Jenni, D. Mallo, M. Manaila, R. Pedrocchi, C. Rebelo, M. Rodríguez, F. Schneider, C. Thomet
Consultores Consultants
Conzett, Bronzini, Gartmann,Victor A. Martinez Segovia (estructuras structural engineering); Techne Ingenieria (instalaciones service engineering)