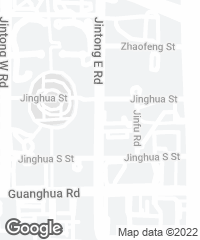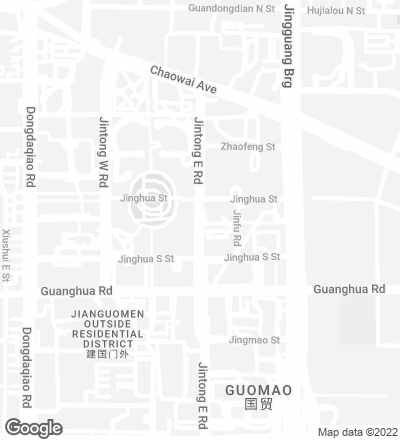 Located in the Central Business District, the 473,000-square-meter building houses the production and control phases of over 250 channels. The complex also includes a public cultural center with a hotel and the Media Park, a gardened area for filming and outdoor events.
The CCTV building is divided into five sections – administration, commercial, newsrooms, broadcasting and production –, and its form facilitates the combination of the entire process of TV-making in a 'loop' of interconnected activities. Two towers rise from a seven-story platform, one is dedicated to news broadcasting and the other includes services and research areas. They are joined by a cantilevering bridge on floor 36, generating a 75-meter overhang.
The structural challenge posed by the loop form (stability during construction had to be guaranteed) is addressed with an exoskeleton, rounded off with a grid of columns and organized with a triangulated web of diagonal, horizontal and vertical elements, so the forces at work within the structure are rendered visible on the facade. Through a seismic simulation program, the CCTV guarantees resistance to earthquakes of eight degrees in intensity.
Client
China Central Television (CCTV)
Architects
Partners-in-charge: Design Rem Koolhaas and Ole Scheeren (until 2010), David Gianotten, in collaboration with partners Shohei Shigematsu,Ellen van Loon and Victor van der Chijs. Project Manager: Yao Dongmei. Project Architects: Anu Leinonen, Charles Berman, Adrianne Fisher.
OMA Competition Team: Rem Koolhaas, Ole Scheeren, Shohei Shigematsu, Alain Fouraux, Fernando Donis; with Adrianne Fisher, Anu Leinonen, Hiromasa Shirai, Tammo Prinz, Catarina Canas, Erez Ella, Victoria Willocks, Johannes Buchholz, Guillaume Colboc, Mamen Escorihuela, Sarah Gibson, Shiro Ogata, Torsten Schroeder, L. E. Tsao, Zhaohui Wu, Yimin Zhu. Associate Architect and Engineer: ECADI (East China Architecture and Design Institute). Rotterdam Team: Wang Xiaoang, Li Yao, Xu Jialong, Chen Li, Dai Weiwei, Dai Yiming, Huang Renying, Jia Bo, Jiang Wen wei, Jiang Xinhua, Lin Feng, Ling Ji, Yang Guang, Zhang Sheng, Zhao Weiliang, Fan Yifei, GuoYuming, Sun Yu, Wu Zhen, Xiang Ming, Xu Nuo. Leadership Team: Shen Di, Wang Dasui, Long Ge. Project coordination Team: Wang Weijie, Zheng Gang, Wang Mingang, Zhang Guoqian, Gao Chao, Zhan, Fengxin, Gu Jing, Tu Qiang. Technical committee: Wen Boyin, Hu Yangqi, Feng Xudong, Xu Weiping, Zhang Fulin, Ma Xiyuan, Wang Weidong.
Project manager: Han Hui. Deputy Project manager: Cheng Yongwei. General contact: Huang Renying. Support: Zhang Runfang, Ma Min, Huang Jingde. Principal: Wang Xiaoan. Deputy Principals: Li Yao. Deputy Principal, structural chief engineer: Jiang Wenwei. Deputy Principal, MEP engineer: Yang Guang. Project architects: Lin Feng, Xiang Ming, Zhao Weiliang. Architects: Lin Ji, Wu Zheng, Sun Yu, Xu Nuo, Fan Yifei, Wang Tianyi, Wu Xinming, Chen Jun, Gu Xinguo, Zhou Leqing, Yu Dian, Liu Fang, Cao Kun, Wang Wei, Jia Bo, Dai Yiming, Dai Weiwei, Su Tao, Zhu Miaomiao, Ding Yang, Guo Yuming, Zhang Sheng. Structural chief engineer: Bao Lianjin, Mu Wei. MEP chief engineers: Zuo Xin, Mao Yihua, Zhang Hongxia, Miao Xing, Jiang Xinhua, Wang Xiaoan, Lin Haixiong, Liu Yi, Han Guohai. Acoustics: Zhang Kuisheng, Wang Jinbo. Cost estimate: Zhou Zhijun, Zhou Weiming. Broadcasting engineers: Shi Liangguang, Sun Wenjing. Vice director of Beijing office: Wu Lianxian. Site Representative chief: Qiu Yongshang. Site representatives: Ma Li; Mo Shaobing; Xing Cheng; Ji Changrong; Dong Zhixiang; Gui Qingnian. Interior director: Hu Ping. Interior vice director: Guo Guang. Interior chief designer: Zhou Quan
Structure, Services, Fire, Security Engineering
Arup. Project Principal: Cecil Balmond. Project Director: Rory McGowan. Project Director Beijing: Michael Kwok. Project Manager Beijing: Craig Gibbons
CCTV Structure - Lead: Chris Carroll. Technical Adviser Beijing: Goman Ho. Project Manager: Alexis Lee. Services-Directors: Alistair Guthrie, Stephen Jolly, Iain Lyall. Mechanical-Lead: Clodagh Ryan, Lewis Shiu. Electrical-Lead: John Pullen, Kenneth Sin. Public Health - Lead: David George. Security: David Hadden, Simon Brimble. Geotechnics: Mark Choi, Jack Pappin. Wind: Roy Denoon, Alex To. Fire - Lead: Mingchun Luo, Longde Zhao. Facade: Front Inc. Broadcast: Sandy Brown Associates LLP. Lighting: Lighting Planners Associates. Acoustics: DHV Building and Industry. Theatre: Ducks Scéno. Vertical Transportation: Lerch, Bates & Associates. High Rise: DMJMH+N. Landscape: Inside/Outside. Buildability: Stephen Scanlon. Signage / Graphics: 2x4 Strategic Advisor: Qingyun Ma
Budget
€ 742 million
Area
599,548 m²
Photos
CCTV/OMA Partners-in-charge: Rem Koolhaas and Ole Scheeren, designers, David Gianotten, photographed by Iwan Baan; Jim Gourley/OMA; CCTV/OMA Rem Koolhaas and Ole Scheeren image courtesy of OMA