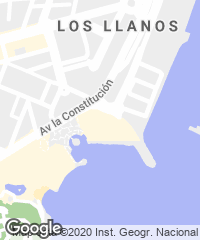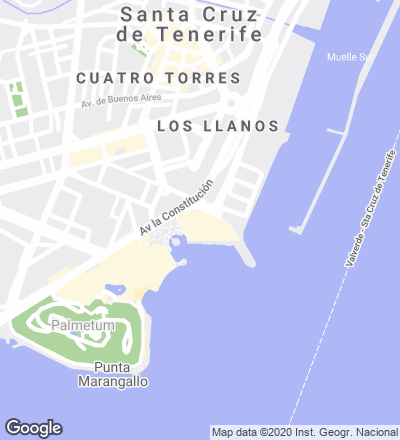 Located on a promontory close to the port, the new auditorium rounds off the program for the revitalization of an ocean front area west of the city, taken up until recently by industrial sheds and a refinery, and which is now the site of the marine park César Manrique and the Palmetum, close to the fairgrounds. The aim of the local government was to provide a permanent venue for the Tenerife Symphony Orchestra and turn the area into a cultural center of attraction. The functional program, devoted originally to classical music, opera and dance, was gradually extended to serve also as conference center and exhibition hall.
The shell of the auditorium rises over a plinth that contains the hall for chamber music and the remaining premises, sheltered by a concrete wing which evokes a crashing wave or a full blown sail. 
A large concrete structure, whose shape evokes a cresting, crashing wave, is the most visible element of the building. This slender shell – made of two cone-shaped segments – sweeps upward in a curve to reach its highest point (58 meters) halfway through its trajectory, narrowing and thinning its section as it descends and ending in a spear-shaped tip pointing at the auditorium's entrance. The wave rises from a concrete base covering the entire plot, shaping an elevated plaza which spans the different levels of the perimetral streets and welcomes visitors as a sort of outdoor lobby.
The complex comprises a 1,800-seat concert hall and a 400-seat hall for chamber music. The latter hall and the annex premises (amenities, dressing rooms and supply areas) are fit in the plinth, that is clad in basalt on the outside, the typical volcanic stone of the isles. The shell that houses the main concert hall, symmetrical, is generated by the rotation of a curve over the base of the ellipse. The suppression of a wedge of approximately fifteen degrees in the center of the volume produces the emergence of a sharp crest, whose upper part supports the roof curve. The volume of the auditorium rises flanked by tangential walls, softly wavy and clad on the exterior with broken ceramic tile.
Though the administration and auditorium are artificially conditioned, the lobby and the circulation areas are ventilated naturally by an air current induced from the glazed premises between the concrete shells. To improve the acoustics, the interior wood panels adopt crystalline shapes – which emphasize the dramatic character of the space –, and instead of the conventional backdrop, there is a screen of aluminum slats which, when elevated, function as sound reflectors above the orchestra pit.
Cliente Client
Cabildo Insular de Tenerife
Arquitecto Architect
Santiago Calatrava
Consultores Consultants
Alfonso García García, BBM (acústica acoustics); MC2 (ingeniería y sistemas engineering and systems)
Contratista Contractor
Necso, Dragados, Promotora Punta Larga
Fotos Photos
Artur; Palladium, C. Gascoigne, View