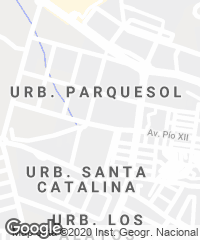 The new courthouse of the town of Antequera, in Málaga, goes up in a recently developed residential neighborhood. Because it was very difficult to establish a dialogue with the surroundings, the new scheme proposes a contained and compact architecture that, without giving up its representative character, is able to adapt to the scale of its site and to meet the functional needs of both users and staff, with warm interior spaces to evoke concepts such as clarity and transparency.

The location of the new courthouse in a recently developed neighborhood encouraged to design a representative volume, adjusted to the scale of the place and able to meet the functional demands of the complex program.
The design of an expressive volumetry is achieved by raising a longitudinal prism on a platform from which a tower emerges. The main entrance to the building is through a double-height lobby from which one can perceive the public dimension of the building and in which only the small elements for articulation and control separate the required circulation paths between the different areas. 
This separation is possible thanks to the linear scheme along the main facade. The functions that are directly related with the public are on street level and first floor. From this level up it is the vertical piece that houses the courthouse premises proper. Systems, archives and detention cells are accommodated in the underground levels, divided by a central corridor of restricted access that sections the floor plan in two.  

In the design of the areas surrounding the building a special attention was paid to the pedestrian access to the complex, keeping in mind that the affluence of public was bound to vary significantly in time and hours. For this reason the building is set back and there are a series of ramps, one of them slightly stepped to span the unevenness of the plot.
It was also necessary to fit out a parking area for the exclusive use of staff members. Thus, a new rear street for car access and directly connected to the staff entrance was inserted, including also a ramp for police and official vehicles.
Towards the exterior the building asserts its presence as a monolithic, solid and closed volume thanks to its skin made of fiberglass-reinforced concrete panels (GRC). In the interior, the large glass surfaces evoke the concepts of clarity and transparency.

 
The choice of material and tone of the building's facade was made following the wish to transmit a significant degree of solidity. With this purpose the brick walls are clad with prefab panels of concrete reinforced with fiberglass (GRC) with a dyed surface finish carried out with a striated mold, discontinuous in depth and separation. This allows to conceal the vertical joints between slabs, thereby achieving a monolithic quality that is interrupted only by deep voids perforating the public spaces.
Cliente Client
Consejería de Justicia y Administración Pública de la Junta de Andalucía
Arquitectos Architects
Ignacio Laguillo, Harald Schönegger
Colaboradores Collaborators
Andrés García, Olaf Schubert; Francisco Jesús Rodríguez (obra construction); Roberto Alés (aparejador quantity surveyor)
Consultores Consultants
Edartec (estructuras structures); Insur JG(instalaciones mechanical engineering)
Contratista Contractor
San José
Fotos Photos
Duccio Malagamba