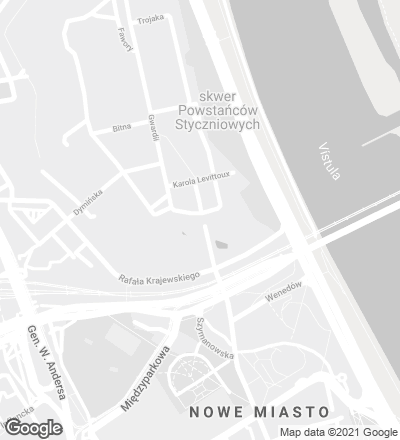 The subject of the Katyn Museum is one of the major political massacres committed during World War II: the execution, between April and May 1940, in the Katyn Forest (now part of Russia), of 21,768 Polish army officers, state officials, and intellectuals whom the Soviet Secret Police (NKVD) had arrested upon the invasion of Poland in 1939.
The monument takes up three old military pavilions located in the Warsaw Citadel: the Nowomiejska Gate, which connects the building to the old quarter; the Karponiere or artillery, where two floors have been fitted out as exhibition galleries; and the gunrest, bordered by an arcade, which has been turned into a commemorative space.
The monument's cathartic effect is achieved through a subtle symbolism: in the old gunrest are fifteen simple plaques with the names of the victims engraved; the old pavilions are arranged around a new memorial park planted with oak trees, evoking the tragedy that took place in the Katyn Forest; and the elements of reinforced concrete that have been added to the old pavilions incorporate prints of personal belongings of the slain, such as letters and pieces of ammunition, in their textures. All these areas are accessible through a narrow passage between two mighty walls twelve meters tall, which give the complex the necessary drama...[+]
Obra Work
Museo de Katyn, Varsovia (Polonia) Katyn Museum, Warsaw (Poland).
Arquitectos Architects
BBGK Architekci (Bzozowski Grabowiecki Architekci) / Jan Belina-Brzozowski, Konrad Grabowiecki.
Colaboradores Collaborators
J. Orlowska, M. Sobol, E. Sobanska, I. Weclawski, A. Grzywacz, E. Wysokinska, J. Kretkiewicz, T. Plucinski, M. Rabek, M. Szulc, B. Trojanowska, J. Fabiszewska.
Fotos Photos
Juliusz Sokolowski.