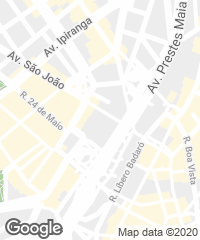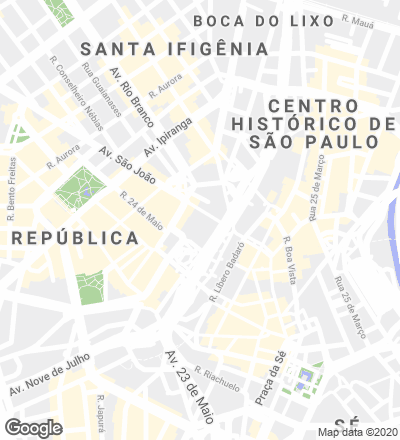 This new performing arts center in São Paulo is situated on Praça das Artes, a place which gets its character through two representative historical buildings: the Dramatic and Musical Conservatory on the one hand, and the Cairo Cinema on the other. Both have undergone a painstaking restoration job to be incorporated into a complex that provides new spaces for use by several orchestras and choirs of the city, besides classrooms for educational and social purposes.
Echoing the geometric features of the intricate plot and respecting a peculiar artistic atmosphere that dates back to some decades ago, the new buildings surround the old ones, in the process forming an interplay of volumes that vary in height and are interconnected by walkways recalling those of Lina Bo Bardi's SESC elsewhere in the city. The pieces are positioned with setbacks creating small public plazas, and are given a similar look through the solution of the envelope, which is the same in all the constructions.
This envelope is formed by a wall of reinforced concrete built on site and pigmented with ocher and reddish tones, and it is perforated with small windows arranged in a seemingly random manner, not however at the cost of a thickness that makes for adequate acoustic properties, fundamental in a building meant for theater and music education. The need for complete silence also determines the design of the interior spaces, with divisions executed through partitions and acoustic floating floors formed by several specialized layers.
Obra Work
Paraça das Artes, Centro de artes escénicas Performing Arts Center in São Paulo (Brazil).
Cliente Client
Municipal Department of Culture.
Arquitectos Architects
Brasil Arquitetura / Francisco Fanucci, Marcelo Ferraz, Luciana Dornellas.
Colaboradores Collaborators
C. Ferraz Cruz, F. Fernandes Paiva, A. Turazzi, C. Silva, A. dieterich, B. Marques, F. Zene, F. Meyer, G. Grinspum, G. Mendonça,V. Gurgel, P. Del Guerra, V. Spira, A. Carvalho, J. Tarragó, L. Ferraz.
Consultor de estructuras Structural consultant
FTOyamada.
Consultor de instalaciones Engineering consultant
PHE Eng.
Consultor de cimentación Foundations consultant
Infraestructura.
Consultor de acústica Acoustics consultant
Acústica & Sônica.
Consulto de climatización Air conditioning consultant
TRThermica.
Pigmentos de hormigón Concrete pigment supplier
Lanxess.
Contratista Main contractor
Partnership Construcap/Triunfo.
Fotos Photos
Nelson Kon, Leonardo Finotti.