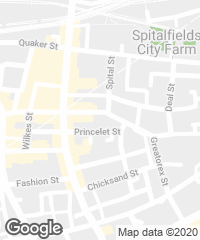 Hidden in a street of the Brick Lane neighbordhood of East London, Second Home is a hybrid between a café and an office. The design was drawn up after a detailed study of the market, which confirmed the area's proliferation of small companies connected to the digital world. The intention of the proiect was to offer these enterprises a space custom-made for them and where architectural quality acted as a stimulus for interdisciplinarity and exchange of ideas.
Occupying an old carpet factory rising three floors, the building appropriates the space compressed between the slabs and the grid of concrete pillars, transforming it into a fluid atmosphere. After the brick facade of the first level was eliminated to introduce an orange structure containing the café, all barriers were dematerialized, vertical and horizontal ones alike. Parts of the slabs were removed so that the entire extent of the space could be taken in visually, and in the rest of the space, thirty-one private cells were distributed, divided by resin panels which, in their curvilinear movements around the pillars, created limits made of reflections, besides providing acoustic insulation. The multisensory experience increases with the painstaking decoration: the walls are dyed with warm and citric tones, and set amid plants of different species is furniture where not a single chair is repeated.
Obra Work
Second Home London Office.
Cliente Client
Second Home.
Arquitecto Architect 
Selgascano/ José Selgas, Lucía Cano.
Colaboradores Collaborators 
Paolo Tringali, Víctor Jiménez, Bárbara Bardín, María Levene, Inés Olavarrieta (arquitectos architects).
Consultores Consultants 
Tibbalds (estructuras structures); Selgascano, Secondhand design furniture (mobiliario furniture).
Fotos Photos 
Iwan Baan.