Stuttgart Central Station
In construction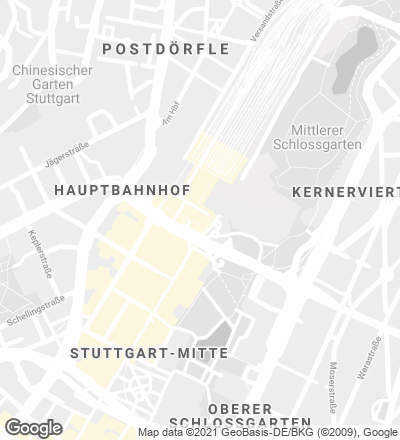 Like many other European cities in the 19th century, during the years of the railway boom Stuttgart grew around its central station. With the city center already packed, today the train tracks have become a barrier between the East and North districts, making development plans challenging. In 1997, the proposal by Christoph Ingenhoven's studio won the international competition called within the Stuttgart21 urban design project. The design foresees burying the tracks, extending the historic building of Paul Bonatz and F.E. Scholer, and connecting the city with Europe's high-speed railway lines. After some controversy, the works began in 2010 and the inauguration is set for December 2025.
Once completed, the roof of the new station will become a completely pedestrian area that meets and extends the nearby Schlossgarten Park, connecting the new Rosenstein quarter with the heart of the historic city.
Both the train tracks and the new building are buried to avoid overshadowing the current station, the historic building designed by Paul Bonatz with Friedrich Eugen Scholer, and which will be retained as the main entrance hall.
The unique roof is a complex construction that works only under compression to reduce its thickness and the amount of steel needed; the 28 supports of anticlastic curved surfaces efficiently follow the course of the forces.

The building generates its own electricity, and this along with the passive strategies reduces energy consumption related to heating, cooling or ventilation, which will be supplied by underground water or the air currents from the tunnels.

The project's main objective is to optimize the building processes and ensure they are efficient. This is achieved with a material-saving structure that reduces thicknesses and with reusable concrete formworks or prefabricated modular elements.

The shell roof – measuring 450 meters long by 80 meters wide –, the undulating pillars and the large striking skylights bring in a continuous light into the hall during the day, with control systems to filter daylight and favor ventilation.

Obra Work
Stuttgart Central Station (Germany)
Cliente Client
Deutsche Bahn AG, Berlin represented by DB Projekt Stuttgart-Ulm (PSU) GmbH, Stuttgart
Propietario Owner
Deutsche Bahn AG, Berlin represented by DB Station & Service AG, Berlin
Arquitectos Architects
ingenhoven architects; ingenhoven architects, WKM Weber Klein Maas landscape architects (diseño paisajístico landscape design); Frei Otto (soporte científico para la estructura tipo concha y la forma biomórfica scientific support for shell structure and biomorphic shape)
Personal de la firma que debe recibir crédito especial Personnel in architect's firm who should receive special credit
Christoph Ingenhoven, Klaus Frankenheim, Hinrich Schumacher, Michael Rathgeb, Bjørn Polzin, Dr. Dieter Henze, Peter Pistorius, Martin Gehrmann, Jascha Klusen, Huub Donkers, Matej Ferenc, Anemone Ingenhoven-Feld, Victor Braun, Vanessa García Carnicero, Elvan Urungu, Peter Georg Vahlhaus, Pavlos Antoniou, Julian Blönnigen
Ingenierías Engineers
Werner Sobek, Engineering consortium Tragwerksplanung S21 Hauptbahnhof GbR, Leonhardt, Andrä and Partners with Happold Engineering (estructuras structures); Werner Sobek (fachada facade); Drees & Sommer SE, NEK Ingenieure, HL-Technik AG Consulting Engineers (servicios mecánicos mechanical services); Tropp Lighting Design (iluminación natural y artificial lighting design, natural and artificial light); Jappsen Ingenieure GmbH (planificación de ascensores lift planing); IFI Institute for Industrial Aerodynamics (análisis del flujo del aire air flow analysis); DB Projekt Stuttgart Ulm GmbH (supervisión de construcción construction supervision)
Consultores Consultants
Geotechnical consulting: Smoltczyk & Partner GmbH (geotecnia geotechnics); Drees & Sommer SE (física del edificio building physics); BPK Fire Safety Consultants GmbH & Co.KG (protección contraincendios fire protection)
Contratista General contractor
Shell and core (Rohbau): Ed. Züblin AG
Fotografía Photographs
Hans-Georg Esch (pp. 55, 57, 62 top left, 64, 66, 67); Achim Birnbaum (pp. 56,60,61,62,63)