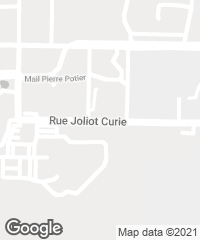 Auxiliary services and recreation amenities are stacked within a distinctive structure that provides users of the outlying Saclay campus with a new space for meetings and activities.
The different programs are organized floor by floor, from the public square up to the rooftop sport courts, with an open double staircase giving independent access to each level on an all-day basis.
Obra Work
Edificio universitario, Gif-sur-Yvette Université Paris-Saclay Campus Facility, Gif-sur-Yvette.
Cliente Client
Établissement Public d'Aménagement Paris-Saclay.
Arquitectos Architects
Studio Muoto / Gilles Delalex, Yves Moreau, Thomas Wessel-Cessieux (socios partners); Paulo Neves, Anne Gerard, Andra Stanciu (equipo team).
Consultores Consultants
Y Ingénierie (instalaciones MEP services); Bollinger & Grohmann (estructura structure); Alternative (acústica e iluminación acoustics and lighting); Novorest (consultoría cocina kitchen consultant).
Presupuesto Budget
5.500.000 €.
Superficie Area
2.300 m².
Fotos Photos
Maxime Delvaux.