Los Amantes Square, Teruel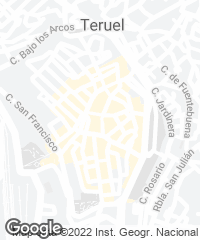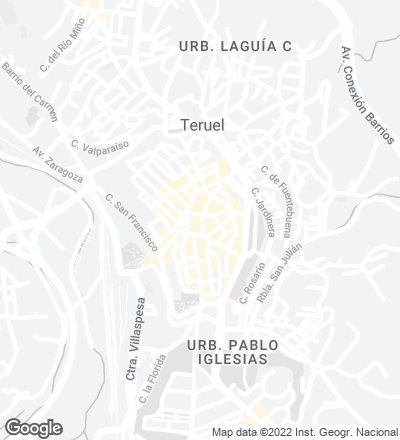 Up to recently, the Plaza de los Amantes was not a square in the true sense, but simply a void left over in the wake of bombings over Teruel during the Spanish Civil War. Nevertheless, because the void is a spot at the center of the city, and one which offers a very good view of the emblematic St. Peter's Tower, in 2008 the municipality decided to bring out the potential of this urban wound and turn what amounts to a non-place into a real place, and an architecture competition was organized for the purpose.
The principal idea behind the winning project, which has finally been executed, involved designing a plinth for the tower that would highlight it as an icon while blocking the view of worthless constructions erected in the postwar. Perforated with a niche of polychrome ceramic through which a pool of water flows, the wall of this plinth is crowned with a continuous bench of solid travertine, and a coping of the same material. It reinforces the horizontality of the plinth of the tower. A monumental staircase – serving to connect the three strata of the square, including an intermediate terrace – twists at the base to symbolically welcome people coming from the lower level, and protected by an abstract banister, it widens as it rises, forming an urban walk that ends up having the effect of linking the old to the new.
Obra Work
Plaza de los Amantes, Teruel (Spain)
Cliente Client
Ayuntamiento de Teruel.
Arquitecto Architect
José Ignacio Linazasoro Rodríguez.
Colaboradores Collaborators
Sergi Artola Dols, Hugo Sebastián de Erice Navarrete, Ricardo Sánchez González (equipo de proyecto project team).
Consultores Consultants
EUTECA (estructuras structures); Emilio Ferrer Pérez (instalaciones installations).
Fotos Photos
Filippo Poli.