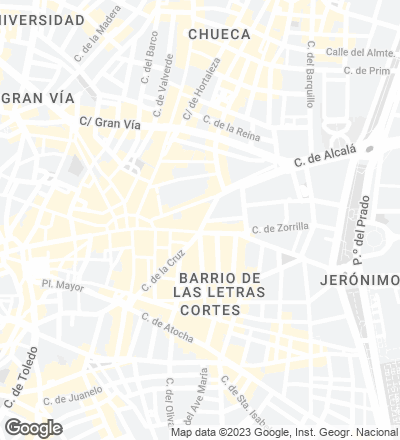 The project carried out by Carlos Lamela's firm involved revamping seven of Madrid's historical buildings, located at Alcalá 6, 8, 10, 12, and 14, at Plaza de Canalejas 1, and at Carrera de San Jerónimo 7. All had been in disuse for over a decade, since the day the financial entity that owned them moved elsewhere.
With 50,000 square meters above ground and 25,000 below, the complex stratifies by floors to offer different uses: a 200-room Four Seasons hotel, approximately 32,000 square meters; a 15,000-square-meter shopping mall on street level and one floor down and up; 22 exclusive apartments on floors 5 to 8, together taking up about 6,000 square meters; and underground parking for 400 vehicles. In merging old and new, the hybrid ensemble maintains the identity of the various buildings with a geometry that serves as a base for a comprehensive scheme, with a symmetry axis in the bisector formed by Alcalá 14 and extending to the other buildings.
In a unitary treatment of the whole complex, the facades of the top stories – which are set back from the line of the original ones – are designed in a way that tries to preserve the identities of the seven buildings, minimizing the visual impact of the intervention and keeping the urban scale of the constructions intact. Besides respecting the facades and part of the original structure, the intervention leaves untouched many other elements of historical value, including skylights, locks, wooden frames, and even the strong room of the bank that used to be headquartered there.
The renovation of the interiors is based on horizontal slabs stretching through all the buildings. This facilitates uniform purposing of the floors, and thus the creation of a single building. The problem of varying facade levels was settled by adding steps or ramps.