IVAM Extension, Valencia
SANAA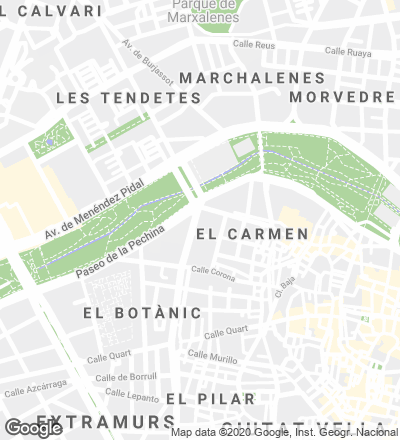 Since the inauguration of the Instituto Valenciano de Arte Moderno in the year 1989, the funds of the museum collection have increased considerably, as has the museum's dedication to research and education activities, which has made it necessary to increase the amount of space currently available. Basically, the exhibition and functional needs of the IVAM demand extending the display areas of the permanent collection, opening up new galleries for temporary exhibitions, incorporating new places in which to store their collection of works of art and increasing the space devoted to didactic workshops, offices and departments of the museum such as registration, restoration, photography and assembly.
Located on the edge of the urban center, along the old city wall, the extension project pays special attention to the relationship with the nearby context, connecting the historic center with the current city and at the same time enhancing its interaction with the nearby El Carmen neighborhood. For this purpose, there are three different accesses that link all the fronts of the plot with a continuous space at street level, a sort of foyer conceived for public use, where visitors can move around freely.
The respect for the current museum, which would undergo only a minor intervention, the desire to obstruct its daily activity as little as possible and the decision not to take up the whole available area of plot are the bases of the project for the extension. All the exhibition halls are concentrated in the existing building, which adds six new galleries to the seven previous ones, covering a total area of 8,028 square meters. The complementary functions, such as cafeteria, shop, didactic workshop and auditorium are transferred to the exterior. And lastly, the restaurant and a sculpture garden are placed over the roof plan, from which it is possible to enjoy panoramic views over the city.
A permeable skin of lacquered and perforated steel sheet, measuring 30 meters in height and held by slender columns, wraps up the whole complex, performing as a filter that transforms the strong wind into a soft breeze and the harsh sun rays into a subtle light. The public space within mixes natural and conditioned air, creating a microclimate that ensures excellent weather conditions throughout the year. The intention is to evoke the shadowed spaces beneath the treetops, which let a diffused light pass through.
Cliente Client
Institut Valencià d'Art Modern
Arquitectos Architects
Kazuyo Sejima+Ryue Nishizawa/SANAA
Colaboradores Collaborators
Yoshitaka Tanase, Yumiko Yamada, Rikiya Yamamoto, Hiroaki Katagiri
Consultores Consultants
SAPS-Sasaki and Partners, Obiol, Moya y Asociados (estructura structure); IDOM (instalaciones mechanical engineering); GBBM (acústica acoustics); Arup (iluminación y medio ambiente lighting and environmental consulting)