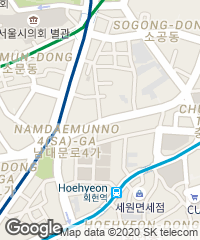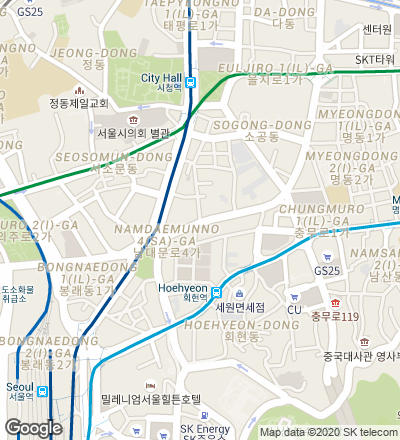 Located close to the old south gate into the city of Seoul, the Namdeamun Market is the largest in South Korea and also the oldest, dating back to the 15th century. In the past decades it has become an important commercial destination and a popular tourist attraction. The history of the market was the inspiration in designing an office building that would be able to connect past and present. The slender metal structure of the tower, which rises elegantly on a corner lot across the market, has 14 floors, and its monochromatic look strikes a contrast with all the color of the commercial construction.
On sunny days, the tower's facade reflects natural light, whereas at night it is the buildig that shines from within, in the process displaying the characteristic compositional pattern of the metal enclosure. 
The frames of the facades, also metallic, contribute to the creation of different atmospheres by filtering incoming light and casting shadows on the interior spaces. In this way, depending on the moment, the building has a different look. During the day, the material of the envelope reflects sunlight, and at night, the tower shines from within, displaying the facade's characteristic pattern.

Obra Work
Edificio de oficinas Namdeamun en Seúl (Corea del Sur) Namdeamun Office Building in Seoul (South Korea).
Cliente Client
Heungkuk Life Insurance Co. Ltd.
Arquitectos Architects
Mecanoo Architecten.
Área Surface
5900 m².
Fachada Facade
Excfirm.
Fotos Photos
Kyungsub Shin.